TiNDLE Foods Selects Dynamics 365 and Dynamic FRM to Create Efficiencies and Prepare for Growth
Press Release
•
Aug 30, 2023
The food-tech startup that offers plant-based food products will implement Dynamics 365 with Dynamic FRM™ to eliminate manual processes, improve collaboration across teams and prepare for significant growth.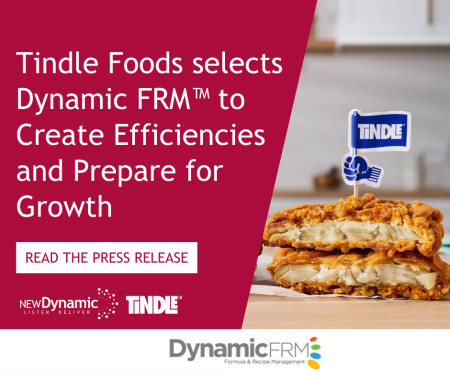 OVERLAND PARK, Kan., August 30, 2023 (Newswire.com) - New Dynamic, a global provider of Microsoft Dynamics 365 Business Applications, announced today that TiNDLE Foods has selected Dynamic FRM™, New Dynamic's product lifecycle management solution built on the Microsoft Dynamics 365 platform and New Dynamic as its implementation partner.
Founded in Singapore, TiNDLE Foods manufactures plant-based foods, including their popular chicken brand, TiNDLE Chicken, and a future range of meat and dairy products. As expressed in their mission to make saving the planet easy, enjoyable and delicious, TiNDLE Foods is committed to building a more sustainable food system.
"We are pleased to partner with the expert team at New Dynamic on the integration of Dynamic FRM™ into our full product development and innovation processes. With Dynamic FRM™, we've been able to bring greater efficiency to our operations, while maintaining the highest levels of information and quality management for our teams all over the world," says Alex Ward, COO at TiNDLE Foods.
"TiNDLE Foods is the unquestioned leader in the plant-based foods space," said Jeff Ney, president of New Dynamic. "Their selection of Dynamics 365 and Dynamic FRM™ shows a true commitment to operating at the highest level of efficiency as they continue their journey of unprecedented global growth. The New Dynamic team is thrilled to have the opportunity to partner with TiNDLE and play a role in this critical transformation."
About Dynamic FRM™
Dynamic FRM™ is a product lifecycle management solution that allows Product Development and Quality Assurance teams in the food & beverage industry to manage ingredients, formulas, recipes and more in a robust centralized solution - built on the Microsoft Dynamics 365 platform. Dynamic FRM™ provides a collaborative solution for the product development cycle encompassing everything from ideation to creation. For more information, visit www.dynamicfrm.com.
About TiNDLE Foods
Founded in 2020, TiNDLE Foods is a food tech startup developing and commercializing delicious, innovative, and sustainable plant-based food brands. TiNDLE Foods is backed by a team with proven experience in plant-based food technology, global brand development, and distribution scaleup. For more information, visit www.tindle.com.
Source: New Dynamic LLC