Timothy Hadaway Opens New Restaurant in the Downtown Area
Press Release
-
updated: Oct 9, 2017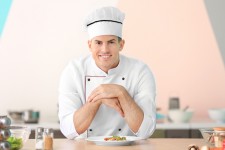 NEW YORK, September 19, 2017 (Newswire.com) - Timothy Hadaway achieved the dream of his life last month when he opened his new Greek-themed restaurant: "AMVROSIA." Since his Culinary graduation in 2007, Timothy spent most of his time traveling around the world, savoring some of the most well-known cuisines - from his home town's (New York) fast food chains to Sukiyabashi Jiro's sushi in Japan. "After I saw myself graduated, I started to travel from country to country, working as a chef assistant in different restaurants," Mr. Hadaway told us.
He said that the hardest part of his journey was the departures: "I never spent more than nine months in one place - I knew that I had to find something new for my book of recipes. I developed strong relationships with so many fellows and it felt like I was living a new life every time I was moving from state to state. I knew that something died inside of me whenever I had to leave, just to find a new life at some new restaurant from a different culture."
The young entrepreneur started his adventure with a single purpose: "Learn from the best in order to offer the best experience in your hometown." He said that the greatest part of his journey was the nine months he spent in Athens. He was a chef assistant at one of the best restaurants in the city: Montakiou. "I never experienced such an amazing time like the nine months in Greece," said Timothy. "The architecture, the people, the tradition and the folklore - I have fallen in love with Greece the moment I stepped into Montakiou." Mr. Hadaway told us that the restaurant was known for its Greek sandwiches and that it is the first stop of every tourist that wants to try the famous Greek cuisine.
"This is exactly what I want to bring here, in New York's Downtown. I feel like people don't really know anything about Greece, besides their economic struggle in the last years. I knew I had to bring the pleasure of being in Greece to my city," added Mr. Hadaway. The restaurant resembles Montakiou, with a chill atmosphere and Greek music. It is the ideal place to have your morning coffee along with a tyrosalata or a crunchy sandwich. The ethnic restaurant offers some of the highest quality Greek recipes, but it also has some influences from other places. "I knew I could stop after Greece, but I made a promise to myself to visit many more countries. I had to go to so many places and restaurants; it wouldn't be rational to me not to share the experience I acquired. This is why I decided to add some more recipes on the menu, from different cultures." You will find sushi, borsch, Romanian's 'mamaliga' and even steak along with Greece's baklava pastry and chickpea soup at Montakiou.
As we understood, the reason why AMVROSIA is such a unique place in the heart of New York is that of the vast experience Timothy Hadaway has gained. We had to try some of the delicacies his restaurant offers and I have to say that we were impressed with the quality of the service - from the friendly staff that made sure that we felt the Greek atmosphere with folklore music and ambiance, to the high quality roasted lamb with potatoes, cooked by Mr. Hadaway himself.
"I finally got to be the master chef. I can't focus on becoming an entrepreneur only; I have to do what I have always done - cooking good food."
When asked what's the meaning behind the restaurant name, master chef Hadaway told us that "ambrosia" is the homage food the Greeks used to offer to their Gods. "I must say that we all feel like Gods ever since I tasted that amazing lamb dish."
Correction: It was previously stated in this press release that Mr. Hadaway is a graduate of the Culinary Institute of America. This incorrect information has since been removed from the release. We regret the error.
Source: Web Presence LLC
Share:
---
Categories: Local News, Restaurants, Bars, and Catering, News
Tags: Timothy Hadaway, Timothy Hadaway New York, Timothy Hadaway New York City
---