Timothy Hadaway Brings Together the Greek Atmosphere and Dishes From All Over the World in New York.
Press Release
•
updated: Oct 20, 2017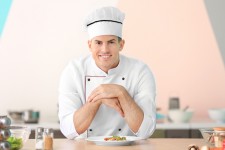 NEW YORK, October 20, 2017 (Newswire.com) - Timothy Hadaway, a chef that spent quite a lot of time traveling around the world to gather recipes from the best restaurants, opened his own restaurant, which incorporates a combination of his experiences abroad and his love for Greek food.
AMVROSIA is a Greek-themed restaurant born from the chef's desire to bring unique flavors to the U.S.
I never experienced such an amazing time like the nine months in Greece.

Timothy Hadaway
Since 2007, Timothy Hadaway spent most of his time traveling around the world and working in restaurants on every continent while trying to unravel the secrets of the world's best cuisines.
"After I saw myself graduated, I started to travel from country to country, working as a chef assistant in different restaurants. I never spent more than nine months in one place — I knew that I had to find something new for my book of recipes. I developed strong relationships with so many fellows and it felt like I was living a new life every time I was moving from state to state. I knew that something died inside of me whenever I had to leave, just to find a new life at some new restaurant from a different culture," adds Timothy Hadaway.
His journey to success wasn't easy. By interacting with the best chefs in the world, he learned how to bring out the best flavors as well as how to combine spices to create dishes that seduce our taste buds.
The young chef and entrepreneur were so impressed by his experience with the Greek cuisine that he later decided to bring his experiences to his hometown of New York.
As a chef's assistant at one of the best restaurants in Athens, he learned quite a bit about traditional Greek food and fell in love with Greece.
"I never experienced such an amazing time like the nine months in Greece," said Timothy. "The architecture, the people, the tradition and the folklore — I have fallen in love with Greece the moment I stepped into Montakiou."
The chef shared that the restaurant is one of the first stops for tourists when it comes to the famous Greek sandwiches and traditional Greek dishes. These were just a few experiences that he wanted to bring with him to the U.S.
"This is exactly what I want to bring here, in New York's Downtown. I feel like people don't really know anything about Greece, besides their economic struggle in the last years. I knew I had to bring the pleasure of being in Greece to my city."
Timothy Hadaway also shared his desire to focus on what he knows best, which is cooking good food. While he enjoys the hustle of being an entrepreneur and restaurant owner, cooking will always be his first love.
The young chef and entrepreneur brought the Greek experience in New York in the "AMVROSIA" restaurant where you can listen to Greek music and enjoy your breakfast with a cup of coffee or with a crunchy sandwich.
But his restaurant doesn't only have Greek influences. You will also find Romanian mamaliga as well as sushi. It even features baklava pastries and chickpea soup.
In the heart of New York, you can find various dishes from a number of countries paired with a Greek atmosphere. There, you can find a roasted lamb with potatoes that are prepared by the owner of the restaurant himself.
All in all, the chef rejoices as he accomplished his lifelong dream.
"I finally got to be the master chef. I can't focus on becoming an entrepreneur only; I have to do what I have always done — cooking good food."
The name "ambrosia" pays homage to the food Greeks used as an offer to the Greek gods. The chef himself hopes that every customer in his restaurant will feel like a god after receiving their ambrosia.
Eric Blankenship 786-332-6554
Source: AMVROSIA
Related Media