Tiled Raises $1.5 Million to Expand Microapp Platform, Jake Reni Joins Tiled as VP Sales and Company Recognized as 'Cool Company' by San Diego Venture Group
Press Release
-
updated: May 20, 2019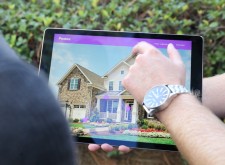 SAN DIEGO, May 20, 2019 (Newswire.com) - Tiled Inc. (www.tiled.co), a microapp platform for interactive sales and marketing communications, today announced that it has raised an additional $1.5 million in seed financing. Tiled, which was recently recognized as a 2019 "Cool Company" by San Diego Venture Group, also announced the hiring of Jake Reni, formerly of Adobe, as vice president of sales to lead the rapid expansion of its sales and marketing efforts.
The financing was led by Kickstart Seed Fund, which also led the company's initial seed financing in 2018. Stage 2 Capital, a go-to-market venture capital fund that invests in and helps companies scale sustainable revenue, joined Kickstart as the lead outside investor. The funding, which was oversubscribed, brings the total funding for the company to approximately $3.8 million.
The financing takes place at a time of rapid growth for Tiled and will be used to further develop the company's sales, marketing and engineering teams. CEO Darrell Swain expects this funding to be instrumental in accelerating growth. "This is a strategic follow-on to last year's seed round. We validated everything we set out to validate with that financing, including doubling our annual recurring revenue, and we felt it was now time to accelerate our hiring," he said.
Jay Po, co-founder and managing partner at Stage 2 Capital, shared his thoughts on the space. "We believe in a world where anyone should be able to create engaging, interactive content. Static content is a way of the past and we were extremely impressed by what the team at Tiled has created for the market. Every company should be using Tiled to modernize their content experiences and we're excited to lock arms with the team to scale sales and marketing."
Recent research indicates companies that invest in design outperform businesses that do not. The Tiled platform enables sales and marketing teams to fully embrace the power of design by engaging interactive experiences more quickly than ever before. "Organizations are starting to realize that the old way of communicating with prospects, customers and employees is keeping companies stuck in the past. Tiled represents the new way. It is the leading platform to turn informational content into interactive experiences," says Swain.  
Jake Reni Joins Tiled as VP Sales
Tiled also announced today that Jake Reni, most recently the head of Global Sales Academy at Adobe, has joined the company as VP sales to lead the growth of its sales organization. Reni, who spearheaded the use of Tiled at Adobe, says he can see firsthand the opportunity microapps present for commercial marketing and sales organizations.
Reni brings more than a decade of experience in leading sales teams at fast-growing and innovative companies including Instructure, Hirevue, Consensus and Adobe. In these roles, Reni has developed deep experience hiring, building and coaching world-class high-performance sales organizations.
"Jake is a proven builder and leader of sales teams," noted Swain. "He is a thought leader when it comes to high-performance sales. We are excited to work with Jake to teach companies how to reinvent the marketing and sales experience using interactive content to improve outcomes."
At Tiled, Reni will lead the company's sales operations. He is an official contributor and ambassador at Sales Hacker and the past president of the Utah chapter of American Association of Inside Sales Professionals. In 2017 and 2018, Reni was recognized as Sales Development Leader of the Year by InsideSales.com.
"I've seen firsthand the impact that interactive content can have within sales and marketing organizations to drive engagement, coaching and consensus," explained Reni. "I joined Tiled to help more organizations understand the urgency in challenging conventional wisdom of static content by embracing our innate desire for intuitive interactive experiences. If you want to know what I mean, pay attention the next time you see a 4-year-old interacting with a tablet or mobile device. Interactive content provides context and context provides relevance. Companies that use Tiled to create, distribute and understand the use of relevant interactive content experience improved conversion rates, reduced sales cycles, increased win rates and ultimately increased revenue."
Tiled Named a 2019 Cool Company by San Diego Venture Group
Tiled was recently recognized as one of only 33 "Cool Companies" for 2019 by San Diego Venture Group. More than 250 companies applied for the award, which is presented annually by San Diego Venture Group. San Diego Venture Group promotes the formation, funding and development of innovative new ventures in the San Diego community. The Cool Companies list highlights the fastest-growing, most exciting startups in Southern California.
"We are San Diego to the core. As a craft software company, we take a lot of pride in our community, and being recognized by San Diego Venture Group is something we're immensely proud of," said Swain. "San Diego's technology community is strong and growing and we look forward to working with the other great companies here to accelerate that growth."
About Tiled
Tiled is the leading microapp platform proven to drive engagement and deliver insight. Microapps are interactive content experiences that help organizations communicate more effectively by making every interaction an experience. Tiled microapps drive sales, improve the customer experience, deepen understanding and align teams.
Tiled is led by CEO Darrell Swain, who also founded Lucid Software, and President Ethan Christensen, formerly of ServiceNow. The founding team also includes Matt Simpson and Jeremiah Simpson, founding team members of Digital McKinsey, and James Gentry.
Experience what a Tiled microapp can look like.
Follow Tiled on LinkedIn or Twitter.
About Stage 2 Capital
Stage 2 Capital is a venture capital firm that invests in early-stage B2B software companies and sits shoulder-to-shoulder with management teams to operationalize sustainable revenue growth and sales operations. Led by partners Mark Roberge, Jay Po and Jill Rowley and backed by top go-to-market professionals from leading tech companies, Stage 2 Capital leverages its deep sales expertise to help entrepreneurs scale their businesses, in addition to providing capital. All inquiries about Stage 2 Capital should be directed to jay@stage2.capital.
© 2019 Tiled Inc. All rights reserved. Tiled, the Tiled logo and other Tiled marks are trademarks of Tiled Inc. Other company and product names may be trademarks of the respective companies with which they are associated.
Media Contact:
Hannah Cardall​
Tiled Inc.
(858) 324-6390
press@tiled.co
Source: Tiled Inc.
Share:
---
Categories: Business Technology
Tags: customer experience, enterprise software, interactive presentations, microapps, SAAS, sales
---