Three New GSF Schools Off to a Great Start Across Asia and the Middle East
Press Release
•
Aug 31, 2023
New schools are initiative of Singapore-based Global Schools Foundation (GSF), whose mission is to expand quality education around the world.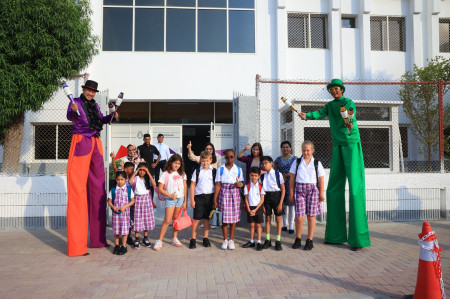 SINGAPORE, August 31, 2023 (Newswire.com) - Hallways of three international schools in Japan, Singapore and Dubai were buzzing with excitement this week as they welcomed new students to the academic year 2023-24, hailing in an era of academic excellence for international students.
The three schools - One World International School - Osaka and Punggol (Singapore), and Glendale International School - Dubai - are part of the Singapore-based Global Schools Foundation family, which had embarked on a mission to expand its reach of providing quality education to students around the world.
All three schools welcomed students with much fanfare, giving them a red-carpet welcome, with balloons, jugglers and stilt-walkers adding a touch of fun on the first day. Teachers and principals interacted with families as they walked around the school facilities.
The environment in these schools was that of excitement and anticipation as they readied themselves for a meaningful educational journey ahead, imparting international curricula to students in Asia and the Middle East.
Based in Dubai, the new Glendale International School follows an enriched approach to British education, offering National Curriculum for England (NCfE) for students from Foundation Stage 1 to Year 13. Focused on well-being and diversity, the school aims to equip students to thrive in an increasingly interconnected world, and will open its doors for students from ages 3 to 11 in its first year of existence.
Principal Jasmit Kang hailed the opening as a 'new beginning' for students in Dubai who will be studying a progressive curriculum, which will help them build a stronger education foundation, and be prepared for the new landscapes in the future.
On the other side of the world, One World International School, Osaka opened its doors to local and international students in Japan, hailing in an era of world-class international education which will be inquiry- and values-based education.
OWIS Osaka offers a rigorous curriculum similar to the national curriculum adopted in Japan's public schools, in addition to holistic development through a harmonious balance of academics and extracurricular activities. "At OWIS Osaka, parents will find a framework that incorporates home, academia and community, ensuring students graduate with greater confidence in themselves as well as a better ability to thrive within a multicultural community," said Principal Greg Culos.
OWIS Punggol campus, Singapore also started its academic year for students and will follow a teaching approach that will nurture 21st-century skills in students, such as collaboration, creativity, critical thinking and effective communication. Principal Ms Angela Henderson said: "We are excited to see students start their educational journey with us. It is going to be an enriching learning experience for them."
GSF's extensive network of international schools has a presence in 11 countries through 64 campuses. The Foundation's schools have knowledge-exchange programmes, which allow cross-country collaboration between peers for experiential learning opportunities that extend beyond classroom teaching.
Source: Global Schools Foundation