Three Highly Skilled Georgia Attorneys Open New Full-Service Law Firm
Press Release
•
Mar 13, 2023
Top Georgia family law attorneys have teamed up to form a new law firm: Hastings Shadmehry Wright.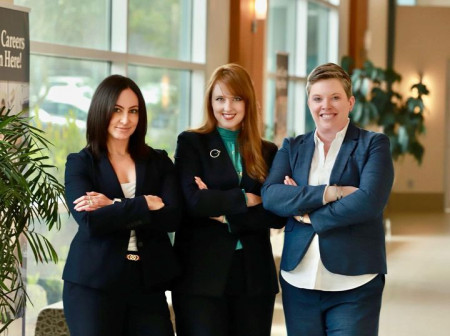 ALPHARETTA, Ga., March 13, 2023 (Newswire.com) - Top Georgia family law attorneys Andrea Dyer Hastings and Mali C. Shadmehry have teamed up with top corporate attorney and civil litigator Heather C. Wright to form a new law firm, Hastings Shadmehry Wright.
Andrea, better known as Andee, has been recognized as a Super Lawyer, while Mali has been named a Super Lawyers Rising Star. Together with Heather, who has been named Super Lawyer as corporate counsel, they will offer comprehensive legal services in the fields of divorce and family law, as well as corporate law.
The three partners of Hastings Shadmehry Wright are experts in various aspects of family law, collaborative divorce processes, civil litigation, mediation, and corporate law, and each has well-defined personal skills.
The partners of Hastings Shadmehry Wright are advocates, guardians, and mediators. As a team, they will focus on:
Divorce, including child custody, child support, and alimony issues.
Family law, including family violence, adoption, grandparents' rights, and every kind of agreement required.
Mediation to help couples work through problems.
Civil Litigation.
Corporate law that affects all businesses.
They have the experience needed to do this.
Andee focuses solely on family law, handling every element from divorce and paternity, and legitimation cases, to adoption, child custody and support, as well as alimony and prenuptial and postnuptial agreements. Licensed in Georgia since 1997, Andee lectures on family law issues and volunteers her time mentoring high school, college, and law school students.
Mali also focuses solely on family law. Her areas of practice include divorce, paternity and legitimation cases, alimony, and adoption. Mali has been licensed in Georgia since 2015. She has been a panelist on the Divorce Bootcamp for Women since 2017 and is also a panelist for the Georgia Association of Professional Private Investigators, Inc.
Heather has substantial experience in family law as a well-respected Guardian ad litem and is a top-rated civil litigator and corporate counsel. She has a bachelor's degree in finance as well as a law degree, and more than 20 years of experience as an attorney. A member of the Atlanta Bar Association, Heather is also a registered mediator and arbitrator. She volunteers with the Atlanta Volunteer Lawyers Foundation and the DeKalb Volunteer Lawyers Foundation.
These three passionate women are excited by the opportunity to combine their skills in Hastings Shadmehry Wright and offer legal services Georgia residents can depend on.
Source: Hastings Shadmehry Wright