This Startup Believes a Supercomputer Can Help You Write a Better College Application Essay
GoSchoolWise.com provides free tools that use advanced machine learning and artificial intelligence to help with the college application.
Press Release
-
Oct 24, 2016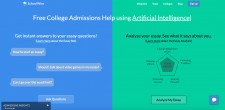 New York, NY, October 24, 2016 (Newswire.com) - The college applications season is in full swing and millions of students across the United States are diligently working on their college application essays. According to a research study by NACAC, around 80% of colleges say that application essays hold importance in making the admissions decision.
Students spend months working on their essays, and for a good reason - Janet Lavin Rapelye, Dean of Admission, Princeton University told New York Times, "The best applications come from students who have spent time writing their essays, editing their work, and refining their message." She further says, "This is your moment to be authentic."
To help high school students with this important piece of the college application, GoSchoolWise.com, a mission-driven organization provides a free Essay Analysis tool. GoSchoolWise.com boasts of using IBM Watson (the famous supercomputer that won Jeopardy) along with proprietary technology to analyze the applicant's college essay, and highlight what it conveys about the applicant.
"Admissions officers read the essays to build a mental picture of the applicant and learn about their personality traits and values. This is where the Essay Analysis tool helps," says GoSchoolWise.com Founder, and MIT graduate, Salil Sethi.
The tool identifies the student's values and personality traits that come across to a reader who has never met the applicant. These values and personality traits are visually shared with the student across 10 different dimensions. Students can also upload multiple essay drafts and see how the personality and values dimensions change across the drafts.
"Our goal with this tool is to help students share their authentic self with the admissions committee. If you value helping others, but that message gets lost in your essay, the tool will help you see that," says Sethi. 
In an effort to democratize the college application process, GoSchoolWise.com provides tools and information for free.
Sethi mentioned that, "GoSchoolWise has been used by more than hundred thousand users in just three months." While there are rival platforms that help with the admissions process, GoSchoolWise.com is the first to leverage advanced machine learning and artificial intelligence to help college applicants. 
"At GoSchoolWise.com, we want to be the pioneers in using technology advancements to improve the higher education space," says Sethi.
Source: GoSchoolWise.com
Share:
---
Categories: Educational News, Educational Technology, Colleges and Universities, Artificial Intelligence and Expert Systems, High Schools, Education
Tags: Artificial Intelligence, Coalition App Essay, College Admissions, College Admissions Essay, College Applicant, College Application, College Application Essays, Common App Essay, High School Students, Machine Learning, MIT Startup
---