This Spring Is All About Baby!
Known for modern, yet timeless women and girls crochet patterns, Little Monkeys Design is surprising its customers this spring with an exquisite line of heirloom quality baby crochet patterns and organic cotton gift pieces.
Press Release
-
updated: Apr 18, 2016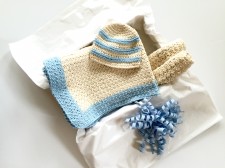 Thompson's Station, TN, April 18, 2016 (Newswire.com) - ​​​​Celebrate the arrival of a new little one with simply luxurious heirloom quality gifts that any expecting mother would adore receiving at her baby shower. Spring is here and with its arrival the Earth begins to blossom in all its glory, and the time to celebrate the arrival of wee little ones begins. Give the gift of quality and memories with lavish hand crocheted presents for baby that will be passed down from generation to generation. Little Monkeys Design is creating an all organic collection of darling baby blankets, receiving cloths, and caps that will become cherished mementos of that special bonding time between mother and child.
Angela Plunkett is a mother who has created all of her life. She got her beginning with a grandmother her taught her the love of crocheting, something she associates with family. As a mother of five she has created countless receiving blankets and things for her own family. What she found in the industry left her wanting "I was often disappointed in the lack of creativity in crochet patterns I bought. The yarn used to create some of the finished items I saw on the market disenchanted me as well." Angela decided to make a change for her family and for those out there who wanted more organic and eco-friendly options when it comes to those things that touch your precious little one's skin. Little Monkeys Design was born from a need to create and to share with others who care about quality, design, and beautifully finished heirloom pieces.  
The All About Baby Collection celebrates one of the most important moments in any parent's life - the wonderful moment when baby is first brought home to snuggle and cuddle. This is a time when a deep bond is formed, one that can never be broken. Always a precious moment, this collection was designed around these memory creating times. Simple breathtaking limited edition hand crocheted designs in traditional colors to honor those mommy-and-me moments so they live on and on in your mind forever.
When creating this collection Angela's philosophy was - nothing says "I Love You" like a handmade gift. She was adamant about several points. Each piece had to beautifully made and timeless. It was imperative that every piece could be handed down to the next generation. They had to be useful everyday items that mothers would not be afraid to use. Everything in the All About Baby Collection is made to be used each and every day. Swaddle your little one in the darling receiving blanket, wear the little cap out to protect their sensitive head, use the wash cloths to cleanse baby's sensitive skin. She also knows that you want nothing that will irritate baby's sensitive skin. All materials used are all organic, no synthetic yarns or toxic dyes. Only the finest in natural fiber yarns such as cotton, merino wool, bamboo, and alpaca are used by Little Monkeys Design. All materials are created from sustainable practices that do not harm the environment.
Each colorful piece in this wonderful collection can be bought individually or as a delightful gift set that includes several pieces for the perfect baby shower gift. The beauty and detail of each blanket, washcloth, and hat will be cherished by the expecting mother as they will become pieces that she will reach to use time and time again as part of her daily routine. Not only are the designs whimsical and playful in their colors and patterns but they are functional gifts every mother needs.
Little Monkeys Design wants to create memories with baby in the safest and most comfortable way possible. With delicate handcrafted pieces that will become a part of the mother and babies everyday life. Watch both her and baby light up every time their favorite blanket is used. Then as the years go by and that child grows into adulthood and has children of his own, there is that memorable moment where he opens up that special wrapped present - the one you saved for last - and there is that exceptional piece that was kept just for this moment all those years. Celebrate those moments that will take your breath away and create new ones where it is all about baby.
About Little Monkeys Design
Little Monkeys Design has been enchanting crocheters and those who love hand crafted artisan items since 2012. Angela Plunkett began creating lovely hand crocheted gift items when others who loved the patterns and designs but could not create them for themselves asked her to do so. This gave her the boost she needed to begin her business.
Angela's lessons in this delicate craft began when she was just 8 years old and her grandmother taught her to crochet slippers. She has been crocheting ever since then. As she grew older and began to purchase patterns and create other things, she found many of them lacking and disappointing. More often than not, she would alter them to suit her taste, adding her unique touch to them.
This pattern would continue as she had children of her own and wanted to create things for them. Many of the yarn choices were synthetic and contained toxic dyes. It was not something she wanted around her babies and so went in search of all natural alternatives. Not finding a whole lot out there, she began to create her own patterns and source her own materials from specialty mills. This eventually would lead to the creation of Little Monkeys Design.
Now Angela is leading a resurgence of modern day crocheters who want to use all natural fibers to create beautiful handmade pieces of artwork that are useful as well. She wants to revive the cottage trade of crocheting and encourage sustainable practices in using all natural materials, two of her passions. Crochet pieces are meant to be worn, used, and lived in. Not only does she offer finished gift items, she has an entire line of crochet patterns with her unique designs that anyone can use to make themselves or loved ones gorgeous items. She also offers kits created with all natural yarns for those who want to begin to create the moment their package arrives at the door.
Ready to launch a complete collection of items just in time for those summer and spring baby showers, the All About Baby Collection is ready to rock-a-bye baby every time you cuddle them in your arms. Designed for everyday use and created from eco friendly materials, these are unique baby gift items that were made to be heirlooms that can be passed down. Create long lasting memories and a bond that never goes away with baby even in the simplest of moments. It is those little seconds that will be remembered for a lifetime.
Contact Info:
You can contact Angela personally at Littlemonkeysdesigns@gmail.com or the contact page http://littlemonkeysdesign.com/contact/. The collection launches live from http://littlemonkeysdesign.com/. She also can be followed on instagram @Ltlmonkeyshop, facebook at https://www.facebook.com/Little-Monkeys-Designs-483790691731339/ , pinterest, https://www.pinterest.com/angelarplunkett/, and twitter https://twitter.com/LtMonkeyShop for all the latest up to date news and sneak peeks.
Source: Little Monkeys Design
Share:
---
Categories: Green Industries, Sewing and Knitting, Hobbies and Crafts
Tags: crochet patterns, diy crafts, green business, handmade gift, organic cotton baby blankets, pattern and yarn kits, sustainable products
---