This Memorial Day, Find Out Why More Soldiers Die of Suicide Than in Combat
Press Release
•
updated: May 27, 2018
Anyone with a friend or loved one in the military is urged to watch a documentary that sheds light on the reason more soldiers and veterans are dying of suicide than in combat. Watch The Hidden Enemy: Inside Psychiatry's Covert Agenda on the Scientology TV Network.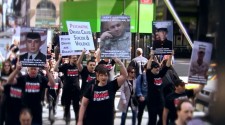 LOS ANGELES, May 27, 2018 (Newswire.com) - ​Memorial Day is set aside to remember the brave men and women who died serving this country. But in early 2013, the United States Department of Defense announced a startling statistic: that the number of military suicides in 2012 had far exceeded the total of those killed in battle. One month later, the U.S. Department of Veterans Affairs revealed that veteran suicide was running at 22 a day—about 8,000 each year.
The situation became so dire that the U.S. Secretary of Defense described military suicide as an "epidemic."
Some have claimed that this spate of self-harm is because of the stresses of war. But the facts reveal that 85 percent of military suicides have not seen combat—and 52 percent were never even deployed.
In the face of these grim military suicide statistics, more and more money is being lavished on psychiatry: as of 2014, the U.S. Pentagon spent $2 billion a year on mental health alone. The Veterans Administration's mental health budget skyrocketed from less than $3 billion in 2007 to nearly $7 billion in 2014—all while conditions continue to worsen.
The Hidden Enemy: Inside Psychiatry's Covert Agenda features interviews with more than 80 soldiers and experts. Former service members and family members speak out about the mass drugging of veterans and the high rate of suicide among them. The film urges soldiers, veterans and their families to educate themselves on the dangers of psychiatric drugs. It holds that the answer lies in veterans exercising the right to full and honest informed consent, the right to refuse treatment and in service members and veterans having access to safe and effective solutions that will do not subject them to dangerous and toxic treatments.
Source: ScientologyNews.org
Related Media