ThingstoDuo App Unveils the Future of Spontaneous Adventures
Press Release
•
updated: Aug 21, 2023
Revolutionary Global Exploration Tool Merges Curated Recommendations with Playful Decision-Making for Travelers and Locals Alike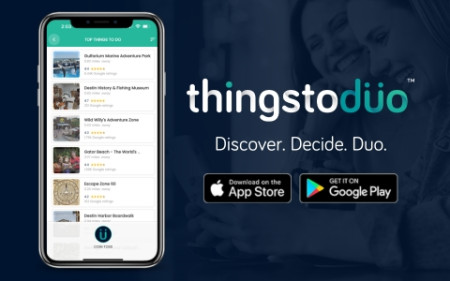 FORT WALTON BEACH, Fla., August 21, 2023 (Newswire.com) - Have you ever found yourself indecisive about where to go or what to do, whether in your hometown or in a foreign land? Woman-owned ThingstoDuo is here to revolutionize the way you make those decisions. Designed for the spontaneous traveler and the local explorer alike, ThingstoDuo instantly recommends activities and places to visit, whether it be locally or a specified city.
Features & Benefits
Global Reach, Local Insight: With a database that spans the globe, ThingstoDuo provides users with curated recommendations that cater to both local tastes and tourist interests.
City Search: Planning a trip? Users can enter a destination city and ThingstoDuo will generate a list of must-visit spots, making planning an itinerary seamless and efficient.
Easier Decision Making: For those moments of indecision, ThingstoDuo introduces a fun element: the coin toss. Users can add two or more selections to a coin toss and ThingstoDuo will select a destination or activity, adding an element of surprise to adventures.
Intuitive User Interface: Designed with the user in mind, the app's intuitive layout ensures users find what they're looking for with ease.
A Word from the Creator
Kilane Garrett, the visionary behind ThingstoDuo, emphasizes the app's unique blend of function and fun. "We wanted to bridge the gap between planning and spontaneity. Whether you're a seasoned traveler or someone looking for a weekend adventure in your city, ThingstoDuo is your pocket guide."
Availability
ThingstoDuo is now available for free download on the Apple App Store and Google Play Store, ensuring accessibility to millions of users worldwide.
About ThingstoDuo
Founded in 2022, ThingstoDuo is a cutting-edge app designed to inspire discovery and exploration for users around the globe. With its rich features and user-friendly interface, it promises a novel approach to travel planning and local adventures.
To learn more about ThingstoDuo, visit their website at thingstoduo.com
Source: Things to Duo LLC