These Milkshakes Will Bring You to 'The Yard Milkshake Bar'
New location in Panama City Beach for successful milkshake bar
Press Release
-
updated: Mar 21, 2018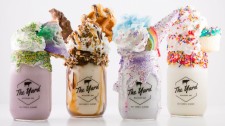 PANAMA CITY BEACH, Fla., March 21, 2018 (Newswire.com) - The Yard Milkshake Bar is coming to Panama City Beach. After a year of success in Gulf Shores, Alabama, they are officially open in Pier Park in Panama City Beach, Florida.
This is not the average ice cream shop. They specialize is desserts and do it right! Not only do they have 28 flavors of hand-dipped premium ice cream, they also make these incredible specialty milkshakes with crazy toppings like waffles, doughnuts, cotton candy, chocolate-dipped bacon, brownies and cupcakes. They serve them up in souvenir mason jars with the logo and Panama City Beach screen printed on them. The best part of all is the nine flavors of house-made edible cookie dough. Any of these can be combined to build a crazy milkshake creation.
The owners of The Yard Milkshake Bar are Chelsea and Logan Green, who have been in the ice cream business since 2011. They decided to come to Panama City Beach after the original Yard Milkshake Bar location was such a success. They visited Panama City Beach last July and loved the location, so they started planning their Spring 2018 opening. On the location choice, Chelsea said, "We love Panama City Beach! We have been getting requests to open a location in Florida since the first week we opened in Gulf Shores and we are so excited to have it finally open."
Where they got the idea? Chelsea says she got the idea for this concept in 2016 after experimenting with some milkshakes at her first ice cream shop Island Ice Cream. She says, "I love combining the flavors and toppings to make new creations. I wanted our customers to be able to come up with their own milkshakes and sundaes easily. The way our menu is at The Yard, everyone will be able to build a new shake or sundae every time they come in." The Yard menus are made up like a checklist where customers can pick from 28 ice cream flavors, nine cookie doughs and 56 toppings to create the perfect shake or sundae. They have a "build your own" waffle or doughnut sundae too. They also have cones, floats and bowls for those who are looking to stay on the simple side.
The Yard in Pier Park is a casual milkshake bar and has plenty of inside seating to stay cool in the summer. When customers arrive, everyone grabs a menu and wax pen by the door. There are two menus for you to choose from. The "Specialty Milkshakes Menu" has two sides: the "build-your-own" side and the specialty side. Then there is the "Everything Else Menu" - this menu includes regular milkshakes, bowls, cones, floats, WAFFLE sundaes, doughnut sundaes and more. Customers mark their choices on the menu and place the order at the register, take a number and find a place to get comfortable. Then sit back and relax with family and friends until the beautiful dessert they just created arrives.
The new location is in Pier Park, just south of The Grand Theater and west of the Beach Ball Drop. Just in time for Spring Break and the UnwineD event in Pier Park, they are having their grand opening Saturday, March 24. They will be giving away prizes all day - one being a giant 10-foot unicorn float. Enter to win the unicorn float on Instagram and Facebook @theyardmilkshakebar. Other prizes include free milkshakes and cookie dough vouchers.
Find out more about the grand opening and how to win some of the prizes on their Instagram and Facebook @theyardmilkshakebar, and also visit them online to learn more at www.theyardmilkshakebar.com.
Contact Chelsea Green 
Phone: 251-978-8260
Email: theyardmilkshakebar@icloud.com
Source: The Yard Milkshake Bar
Share:
---
Categories: Restaurants, Bars, and Catering, Vacations and Travel
Tags: 30A, Desserts, Family Fun, Florida, Gulf Coast, Gulf of Mexico, Ice Cream, Milkshakes, Panama City Beach, Pier Park, Travel, Unicorn
---