There's a New Mobile Game App Where Users Can Win Thousands of Dollars Instantly
There's never been an app like this before. A totally new concept - a smartphone game with an actual cash jackpot worth thousands of dollars paid to each winner. It's available for download now for iPhone and Android, and it's for real.
Press Release
-
updated: Jan 17, 2018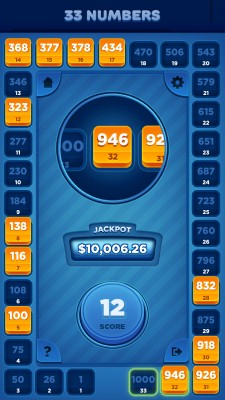 BOCA RATON, Fla., January 17, 2018 (Newswire.com) - A new concept in mobile game apps was just recently released: Three years in development, 33 Numbers is a totally free app that allows users to win an actual cash jackpot instantly. While there are other game apps out there promising prizes, most if not all of them are either sponsored gift certificates or a nominal cash prize of a few dollars. 33 Numbers, however, boasts a growing jackpot in the thousands. As of the writing of this release, the cash jackpot is just over ten thousand dollars.
The app avoids gambling restrictions in most locations by making the game totally free to play. There are no in-app purchases and there is no paid-version available. The jackpot is supported by advertising revenue in the form of industry-standard banner and page ads unobtrusively displayed during the game. A play for fun version is available for a few certain states where playing any game for a monetary prize might be considered gambling. The app checks the users' location services on download and formats the game for that location.
"The most often asked questions we get are, 'Is this real?' 'Is it actual money?' and, 'where does the money come from?'", said David Mintz, managing partner of 33 Numbers, LLC. "This reinforces the idea that our concept is so new that the market is struggling a bit to understand and accept it. Actually, it's a very common business model, similar to say TV game shows where revenues from advertisers help support a prize for winners. We've just applied it to smartphone gaming. It's not gambling because it's totally free to play. And the more players we have, the bigger the jackpot grows."
The game itself is easy to learn, fun to play and somewhat addicting. The object is to fill in a game board of 33 spaces with numbers between one and one thousand in ascending numerical order. The numbers appear randomly on a digital tile each time the player "spins" by pressing a button. The player then has to decide where to place each tile. As the game progresses, the choices become fewer and fewer until the player either successfully places all 33 numbers and wins the jackpot, or runs out of spaces to play the tile and loses the game. But no worries; just press "play again" and keep trying.
33 Numbers is available for download on the Apple App Store, Google Play Store and directly from their website at www.33numbers.com.
About 33 Numbers
33 Numbers, LLC, headquartered in Boca Raton, Florida, was established in 2014 for the purpose of creating and promoting the 33 Numbers game app. Future plans include the ongoing development and expansion of the game itself as well as the application concept.
Source: 33 Numbers
Share:
---
Categories: Video Games, Mobile and Smart Phones, Gambling
Tags: apps, games, smartphone
---