There is Less Need to Fear Increasing Student Loan Interest Rates With the Right Repayment Plan Notes Ameritech Financial
Press Release
-
updated: Jul 18, 2018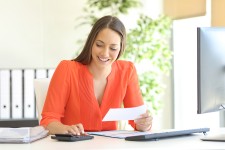 ROHNERT PARK, Calif., July 18, 2018 (Newswire.com) - Student loans caused a lifestyle problem before the increase to interest rates that came into effect on July 1, 2018. While the average loan balance when borrowers graduate is $37,172, the interest rate increases mean that many students will struggle to make their payments, and they may be overwhelmed by interest over time. Many borrowers who are unfamiliar with alternative student loan repayment plans may feel forced to adopt a drastic lifestyle shift in order to pay off their loans. This lifestyle shift can cause borrowers to feel that they are missing opportunities or cannot live the life that they want. Ameritech Financial, a document preparation company, may be able to help borrowers discover the right repayment plan to allow them to keep pursuing the opportunities that they want in life.
"Borrowers facing increasing interest are often not informed of the best repayment plans to fit their wants and needs," said Tom Knickerbocker, executive vice president of Ameritech Financial. "Instead, they may want to be able to pursue life goals, such as their dream career or owning a house. With the right repayment plan, a borrower will hopefully be more able to focus on those goals."
The Standard Repayment plan tends to dominate one's life and dictate habits, as the interest accumulates quickly unless a borrower repays the loan right away. Because of the high amount of interest, borrowers are forced to do everything possible to pay down their student loans as fast as possible. Loans taken out after July 1 will have a similarly dire situation, but their interest rates will be even greater, prompting even more extreme measures.
Borrowers facing increasing interest are often not informed of the best repayment plans to fit their wants and needs.
Ameritech Financial may be able to assist borrowers by helping to analyze their finances and assisting them to find and apply for an income-driven repayment plan (IDR) that may ease the burden of monthly repayments. On such a plan, most borrowers will be able to pay only 10 or 15 percent of their discretionary income per month to repay their student loans, with monthly payments as low as $0 for certain situations. Interest will still be added to the student loan account, but there is a chance that borrowers may be eligible for student loan forgiveness of any remaining balance after 20 to 25 years of enrollment in an IDR. Using an IDR, a borrower may be more able to live the life they want, while feeling confident that they have handled their student loans.
"Many borrowers are encouraged to use every penny toward their monthly payments in the Standard Repayment plan," said Knickerbocker. "If borrowers feel that this is too extreme or that their future is being denied to them because of their student loans, Ameritech Financial may be able to help them find the right repayment plan to get their life back on track."
About Ameritech Financial
Ameritech Financial is a private company located in Rohnert Park, California. Ameritech Financial has already helped thousands of consumers with financial analysis and student loan document preparation to apply for federal student loan repayment programs offered through the Department of Education.
Each Ameritech Financial telephone representative has received the Certified Student Loan Professional certification through the International Association of Professional Debt Arbitrators (IAPDA).
Ameritech Financial prides itself on its exceptional customer service.
Contact
To learn more about Ameritech Financial, please contact:
Ameritech Financial
5789 State Farm Drive #265
Rohnert Park, CA 94928
1-800-792-8621
media@ameritechfinancial.com
Source: Ameritech Financial
---
Categories: Financing and Student Loans, Financial News
Tags: federal student loans, financial goals, income-driven repayment
---