Theralogix Launches PhytoLife Balance: A Content-Certified, Best-in-Class Supplement That Makes Plant-Based Diets Simpler and Safer
Press Release
•
Jul 12, 2022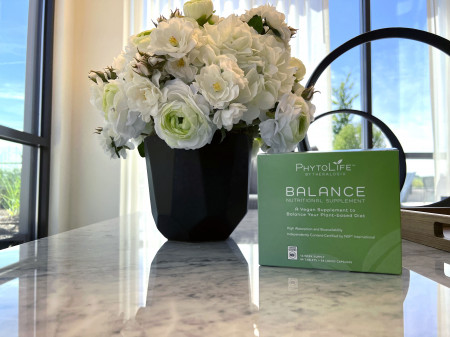 ROCKVILLE, Md., July 12, 2022 (Newswire.com) - Theralogix Nutritional Science, a leading expert and considered the gold standard for evidence-based nutritional supplements, is pleased to announce the release of PhytoLife™ Balance, their high-quality, plant-based solution to address the possible nutritional gaps for people following a plant-based diet. PhytoLife Balance is the first and only supplement formulated for a plant-based diet certified by NSF International.
According to an article published by Bloomberg, plant-based dairy and meat sales reached as much as $29.4 billion in 2020 and could increase to $162 billion by 2030. A study released by Ipsos Retail Performance reveals that between 2004 and 2019, the number of plant-based eaters in the United States grew from about 290,000 to 9.7 million. Google Trends search data also shows a significant increase in search activities for the word veganism in the last 10 years.
These numbers don't lie. The plant-based revolution continues to soar, and for good reason - plant-based diets are not only healthy for your body, reports show that vegan and vegetarian diets are associated with the greatest reduction in the world's greenhouse gas emissions. A plant-based diet can be a very healthy option for many people, but with any restrictive diet, certain nutrients may be lacking.
This is where PhytoLife Balance comes in. If you follow a plant-based diet, PhytoLife Balance is the easiest way to ensure you're getting all the essential nutrients you need. PhytoLife Balance delivers the right balance of 10 essential nutrients that can be difficult to get from plants alone:
· Vitashine vitamin D3 (from lichen)
· Vitamin B12
· Iodine
· Vitamin K2
· Chelated Minerals (Calcium, Magnesium, Iron, and Zinc)
· DHA and EPA Omega-3s
And in case you're wondering what these nutrients do for your body, they support the health and proper function of your brain, eyes, heart, immune system, and even your joints.*
PhytoLife Balance's unique formulation stands out against its competition. These vegan-sourced nutrients are delivered to your body in a balanced, easy-to-absorb format. It is formulated by physicians to create a safe, efficacious, high-quality supplement that both customers and their doctors can feel good about. PhytoLife Balance is also independently tested and certified by NSF International. Simply put, this certification assures you that PhytoLife Balance contains only exactly what is listed on the label - nothing more, nothing less.
You can get Phytolife Balance from Amazon or Theralogix.com. You may also follow Theralogix on Facebook, Instagram, and YouTube for more information,
A Supplement and Name You Can Trust
PhytoLife Balance, like other products developed by Theralogix, has completed rigorous testing and certification to secure the highest purity standard set by the public health organization, NSF International.
Theralogix products undergo extensive evaluation by their medical advisory board, and they are independently tested by NSF International for quality, purity, and accuracy. Theralogix is a leading name in nutrition and supplementation with many award-winning and doctor-recommended products under its belt. Visit their website (Theralogix.com) to learn more about Theralogix, their products, and the work that they do.
About Theralogix
Theralogix was founded in 2002 by a team of physicians and scientists committed to developing evidence-based, independently certified micronutrient supplements. Theralogix products have been used in over a dozen clinical trials conducted by esteemed universities and research institutions across the United States. Theralogix has a full line of products for specialty uses including rheumatology, women's health, urology, and fertility health. Each product has been approved by our Medical Advisory Board, which is comprised of physicians, nationally reputed scientists, and faculty members from leading U.S. medical schools.
Theralogix is the gold standard for evidence-based nutritional supplements, and they follow a clean label policy. All products are artificial-dye-free, gluten-free, and contain no proprietary blends or undisclosed ingredients.
About NSF International
NSF International facilitated the development of NSF/ANSI 173, the American National Standard for dietary supplements, which is continually updated with the changing industry. To earn NSF certification, supplement products must be produced in a manufacturing facility that is inspected semiannually to comply with the U.S. FDA's Good Manufacturing Practice (GMP) requirements and industry best practices. In addition, NSF-certified products undergo a variety of tests and reviews, including:
● Toxicological review of product safety, formulation, and label claims
● Contaminant testing for harmful levels of specific contaminants like pesticides, lead, and arsenic
● Label claims to test to verify what's on the label is in the package
● Ongoing monitoring to verify compliance through periodic auditing and testing
* These statements have not been evaluated by the Food and Drug Administration. This product is not intended to diagnose, treat, cure or prevent any disease.
MEDIA CONTACT
Heather DeSantis, CEO and Publicist at Publicity For Good - heather@publicityforgood.com
Source: Theralogix Nutritional Science
Tags