ThePowerMBA and Accredible: The Power of Digital Credentials
Press Release
•
updated: May 6, 2020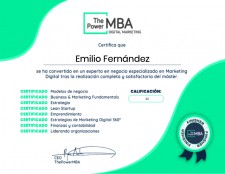 MOUNTAIN VIEW, Calif., May 6, 2020 (Newswire.com) - ​​​​​Accredible today announced it has partnered with ThePowerMBA to bring digital certificates and badges to business professionals all over the globe. Accredible is excited to partner with ThePowerMBA as they continue to expand their online presence throughout the world, driven by their vision of becoming the first truly global business school.
Starting in 2017, ThePowerMBA had only 150 students enrolled in the first cohort of their disruptive business program. Now, two and a half years later, they have over 30,000 students enrolled across 20+ different countries. ThePowerMBA took an innovative approach behind the traditional MBA model by developing a practical, up-to-date online program, delivered by top business leaders including entrepreneurs and founders of YouTube, Whole Foods, Tesla and many more, at a 'no-brainer' price ($1,000).
Business professionals who earn ThePowerMBA's 'Finisher' certificate will now receive a digital certificate and badge that is hosted on the Accredible platform, which allows them to showcase their achievements online and stand out from others in the industry. They also allow for instant online verification. Employers can now easily verify these certifications and credentials as part of their due diligence process.
"Accredible has been an amazing tool to promote our program organically, being our students' best ambassadors," said Rafael Gozalo, co-CEO and co-founder of ThePowerMBA.
"ThePowerMBA continues their strong history of innovation in the business education space by bringing their certifications into a secure, modern digital format," said Danny King, CEO of Accredible. "This will allow their graduates to showcase their achievements online on places like LinkedIn to further bolster their professional reputations."
See additional information about thepowermba.com/en.
About Accredible:
Accredible is bringing credentials and qualifications into the Information Age. Accredible is the industry-leading digital badge and certificate platform that securely issues, manages, tracks, and verifies high-stakes credentials across the globe. Universities, professional associations, technology companies and others are able to create, deliver and manage tens of thousands of digital certificates and open badges with just a few clicks. Learn more at accredible.com.
About ThePowerMBA:
ThePowerMBA is the business school that's challenging the status quo of traditional business education by developing the first real alternative to an MBA: a complete, up-to-date and practical program delivered by the world's business leaders for $1,000. With their totally disruptive model, which has attracted more than 30,000 students all over the world, ThePowerMBA is proving that there's no longer a need to spend a ton of money and time to thrive in business. Learn more at thepowermba.com/en
Danny King
Accredible
press@accredible.com
Maria Cavada
ThePowerMBA
Source: Accredible