Theme Music and Youtube Video to Champ's Workout DVD Pushes Sales
Fitness fans are finding that it's not only the workout that they are enjoying when they perform the W3P workout, but it's the music that really gets them going.
Press Release
-
Apr 15, 2016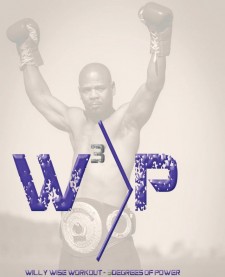 Virginia Beach, USA, April 15, 2016 (Newswire.com) - ​​​​​​​The music is the first thing that catches the attention of fitness fans as soon as they turn on the W3P: Willy Wise Workout - 3 Degrees of Power. "People who know me, know that I love music. When I was in the ring, I would sometimes have my own original ring intro music arranged by my friend DJ Jaywalk who was on New York radio at the time," said Wise. "So it only made sense that I would want the hottest sound for my workout DVD."
To get the right sound for the DVD, Wise brought in Atlanta multi-platinum music producer, Nicholas "Nick Fury" Loftin,  to produce and arrange the music, along with two of Wise's own cousins, brothers Fadale Northan and Frisco Rivera, also from Atlanta. ​​The trio produced unique beats, arranged and mastered them to fit each phase of the workout. According to buyers the strategy worked. ​"As soon as I heard the theme song, I wasn't sure if I wanted to dance or throw jabs," said recent DVD buyer, Ashleigh Barker. "But it doesn't matter because right away you feel your blood surging."
Wise's company, Wise Choice Boxing Training and Fitness also brought in Esprit Television Network to produce a video for the theme song to the DVD. "The video was something of an after thought so we didn't do much to promote it except put it on YouTube," he said. "And despite the minimal promotion the video picked up over 30,000 views right away." Today the viewership has continued to climb to over 40,000. In addition to the music, one possible reason for that is the video is something of a commentary on Wise's own life in recent years. In October 2014, Wise sustained injuries from a car accident when he lost control of his Maserati coming out of a curve near his home in coastal Virginia. He was in a body cast for more than five months and still experiences some challenges from the traumatic brain injury, though it's not immediately detectable when speaking to him.
"It's at moments such as this (accident) that the superior physical caliber of a professional athlete is understood," said one of the trauma unit doctors at Sentara Healthcare where Wise was medevaced by helicopter. " "Had it not been for his being in top physical condition, he may not have survived." Still a grateful Wise is taking it all in stride. "I'm still building my brand, the water, apparel, other merchandise are still moving forward. I'm still training. I tell people, I'm not just a fighter in the ring, I'm a fighter at heart. If I forget something, I just say, 'charge it to the accident' and keep it moving."
Wise hopes to do a small tour around the country later this year conducting mass workout sessions. "There's nothing like a W3P session in person with Willy Wise," he said. "The ladies who come in the door to workout with me love it because it's like having a real life ring experience. In the gym, they are ferocious punchers who do so with speed and accuracy. Then they go back to being soccer moms". 
Source: Wise Choice Boxing Training and Fitness
Share:
---
Categories: Music, Sports, Fitness, and Recreation, Exercise and Physical Fitness, Arts and Entertainment
Tags: boxing, champion, DVD, exercise, fitness
---