Theia Interactive Named Unreal Engine Authorized Service Partner
Press Release
•
Feb 1, 2023
Theia joins a short list of visualization pros providing client technical and development support.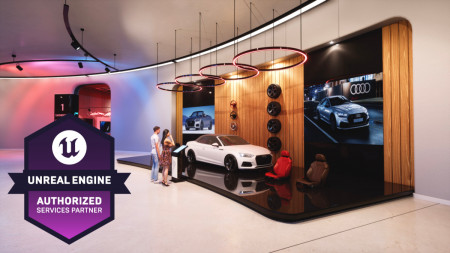 CHICO, Calif., February 1, 2023 (Newswire.com) - Leading-edge visualization experts Theia Interactive have been named an Unreal Engine Authorized Service Partner by Epic Games.
As adoption and use of Unreal Engine has grown exponentially across a multitude of industry sectors, the Authorized Service Partner program was launched to "provide the highest level of technical support, implementation, and co-dev services to current and prospective Unreal Engine customers."
Prospective service partners are invited to apply for the designation, and must meet stringent criteria for inclusion. They must be "experts in their industry, and be creative problem solvers and excellent tool builders. What's more, Unreal Authorized Service Partners' portfolios must include Unreal Engine-based work of consistently high quality. Once invited to join, potential Partners then complete a detailed application, skills assessment, and technical interviews before acceptance into the program is possible" according to Epic.
"Applying for, and being accepted into the ASP program, was a natural choice for Theia," said Theia Co-Founder and CEO Bill Fishkin. "Unreal Engine is fundamental to what we do. Practically our entire digital workflow is built with Unreal Engine.
"We take great pride in all of our work, and especially the 100+ projects we've created, including many for Epic Games. Our close collaboration over the years has provided us not only with access to Unreal's technical support, development, and management teams, but has also allowed us to advocate for our clients visualization needs with the premier provider of creative tools for real-time rendering.
"We're excited to formalize our partnership and look forward to working even more closely with our friends at Epic Games."
About Theia Interactive
Theia Interactive is an immersive solutions studio with a passion for building beautiful, state-of-the-art virtual environments and experiences for Enterprise clients. Whether it's world-building for brands in the Metaverse, creating digital twins for design review, or working with product manufacturers to design and develop virtual demonstrations, Theia tells engaging stories through visualization. Their mission is to build collaborative communities, spark imaginations, and strengthen brand loyalty for their client companies. Theia has created award-winning projects for companies from multiple Industries such as Epic Games, HP, Mohawk Industries, NVIDIA, AWS, Grainger, Toll Brothers and Pampered Chef. For more information visit https://theia.io.
About Unreal Engine
Developed by Epic Games and introduced in 1998, Unreal Engine is a complete suite of creation tools for game development, architectural and automotive visualization, linear film and television content creation, broadcast and live event production, training and simulation, and other real-time applications.
Source: Theia Interactive