theboardiQ Hall of Fame African American | Black Exceptional Leaders
Press Release
•
updated: Jun 20, 2021
Top 100 Board-Ready and Next-Generation African American | Black Exceptional Leaders making an impact at the intersectionality of inclusion, sustainability, transformation, technology and innovation.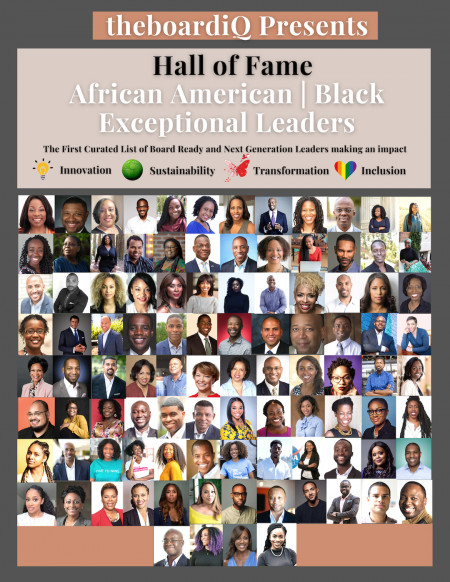 SANTA CLARA, Calif., June 16, 2021 (Newswire.com) - theboardiQ today released the Hall of Fame African American | Black Top 100 exceptional, board-ready and next-generation leaders, making an impact at the intersectionality of
Inclusion - Gender | Person of Color | Race & Ethnicity | Sexual Orientation | Country of Origin | Differently Abled
Sustainability - Significant Impact on UN's 17 SDGs and support Zero Emission Goals' Metrics
Transformation - Business Resiliency during the Pandemic
Technology Innovation - Demonstrated ability in bringing new ideas, technology, products and platforms to market with business success.
"The Research Team at theboardiQ identified 100 stellar individuals that are at three stages of maturity for board roles," says Smitashree Menon, Founder & CEO at theboardiQ. "CXOs, CTOs, VPs, EVPs, CIOs, CISOs, CFOs, startup CEOs who are seasoned and board ready. Then there are subject matter experts, exemplars in their own fields, domain experts, doctors, academicians, inventors who need to get some more exposure with shadow board roles and immersive experiences before assuming board responsibilities. And the third category are those individuals making a social impact - be it in the areas of sustainability, human rights, geopolitical influence and government relations, influencing policy and legislation that impact our daily lives."
Minority representation on boards continues to be a problem - with racial and ethnic minorities making up 40% of the United States' demographic population and yet accessing only 12.5% of board seats, something that theboardiQ hopes to move the needle on with its moonshot mission of creating inclusive boards for businesses.
The Inaugural Edition released end of 2020, profiled 300 stellar executives including 144 women, as well as LGBTQ+ | race | ethnicity | people of color | country of origin | differently abled | veterans | multi-generational slates of Inclusion - harnessed 24+ official corporate communication releases | 10,000+ LinkedIn likes | 500,000+ views | 250+ Tweets and Retweets. More recently, theboardiQ also released the Asia- American "Emerging Leaders" Top 100 (being re-branded as "Exceptional Leaders").
----------------
About theboardiQ - theboardiQ is an early-stage startup, headquartered in Santa Clara, CA, that aims to tap into the $25 billion global market opportunity to help public and private boards be compliant with gender and inclusion representation legislation, by reducing unconscious and algorithmic bias in the accurate search, discovery, match, selection and onboarding of executives at greater than 50% increased efficiencies in hiring costs and faster cycle times. The platform will enable better business performance with intelligent actionable insights.
Media Queries, contact - smitashree@theboardiQ.com or roopamahendra@theboardiQ.com
Source: theboardiQ LLC