TheaterLab's TLabShares Proudly Presents a New Dramedy - 'The Deed is Done'
Press Release
•
updated: May 25, 2017
An American Brownie Production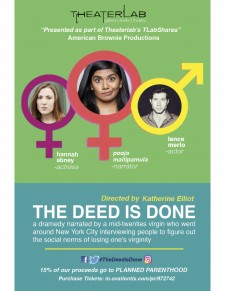 New York City, NY, May 25, 2017 (Newswire.com) - "The Deed is Done" runs June 6 and 8 at 8 p.m. and June 10 at 2 p.m. at TheaterLab (357 W. 36th St., 3rd Floor). 15% of ticket sales will be donated to Planned Parenthood. Tickets can be purchased at: https://m.ovationtix.com/pr/972742
The Deed is Done is a dramedy narrated by a mid-twenties virgin who went around New York City interviewing people to figure out the social norms of losing one's virginity. It explores the awkwardness and societal pressure which comes with losing one's virginity. The show captures the essence of the emotional and psychological impact that the 'first time' has on individuals of all walks of life.
The narrator, a goody-goody virgin, adds humor, juxtaposing the sometimes serious stories of her more sexually adventurous peers. The Deed Is Done allows the audience to reminisce about their own first-time experiences, while also showing virgins in the audience that they are not outsiders.
Although everyone has a different 'first-time' story, these stories still connect us as human beings. The Deed is Done explores diverse voices and embraces sexuality, while simultaneously exploring what 'virginity,' means, both in relation to identity and humanity.
Directed by Katherine Elliot - a co-founder of the production company Wild Banshee, a former producer/actor for The Tempest Ladies, she has independently produced and performed in projects ranging from Off-Broadway theatre to low-budget film. Katherine recently served as Chair of Networking-Salon Series for The League of Professional Women, and is an actor, visual artist, and writer. Her previous directing experience has been with her own writing, so she is excited to have the opportunity to work on Pooja's insightful, witty piece. She is proud of the hard work and dedication of the cast and crew, and is honored to be a part of it.
Narrated by Pooja Mallipamula - a prudish party girl. She somehow managed to graduate from a party school such as Penn State while still keeping her v-card. She is not saving herself up for marriage, but she doesn't want to lose her virginity to a stranger either. When dating has become such an obsolete behavior within her generation especially in big cities like New York, what's an older virgin like her to do? Coming from a conservative family, she has been raised with tons of sexual guilt, which makes it impossible for her to participate in the hookup culture. She was born in India, but grew up in Pennsylvania. She moved to NYC in pursuit of her comedy career. NYC is her bad boyfriend; she loves everything about the Big Apple other than dating scene. She has a degree in Engineering and Journalism, neither of which she actually uses in the real world. She is corporate by day and comedy writer by night. Her favorite meal is brunch (who doesn't love champagne with a giant stack of chocolate chip pancakes?). Tina Fey is her ultimate role model. She is 50 shades of brown, because her foundation is never the right color. She's a social butterfly obsessed with political humor, world travel, red wine and chocolate. As an existential old soul, "BoJack Horseman" is her favorite Netflix show. She has a knack to over-analyze everything and anything. This is starting to feel like an online dating profile, so she will stop. Thank you for reading!
Deed is Done is proud to present the actors Hannah Abney and Lance Merlo:
Hannah Abney is an actress and comedian based in NYC. She studied acting at NYCDA, and has produced her own web series, 'Handsy with Hannah.' You can catch Hannah online and performing stand-up around the city.
Lance Merlo is an actor and improvisor hailing from Texas. He has been involved in dozens of shows behind the scenes in both Austin and New York, and is making his scripted stage debut with The Deed is Done.
The Dress Rehearsal is scheduled for June 4 at 5 p.m. at TheaterLab (357 W. 36th St., 3rd Floor) in case any journalists would like to see a preview.
###
If you would like to interview the narrator or the director, please contact americanbrownieproductions@gmail.com or call 347-530-2794.
Source: American Brownie Productions
Related Media