The Voice Finalist Morgan Myles Joins the Glioblastoma Foundation® as a Celebrity Ambassador to Raise Awareness and Funding for Glioblastoma
Press Release
•
updated: Feb 23, 2023
The Glioblastoma Foundation® launched a new awareness campaign today featuring Morgan Myles as the celebrity ambassador with the goal of raising awareness of Glioblastoma — the most lethal and common form of brain cancer.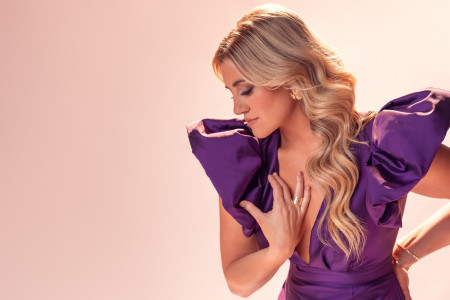 DURHAM, N.C., February 22, 2023 (Newswire.com) - Morgan Myles was a top three finalist on the latest season of NBC's The Voice, and now she is hopeful to use her voice in a different way — to share her family's story and bring more awareness to the work that the Glioblastoma Foundation is doing to assist patients in their fight against this aggressive cancer.
While on The Voice, Myles dedicated her semi-final performance of Lady Gaga's "Remember Us This Way" in memory of her cousin Mac and her grandfather — both of whom she tragically lost to Glioblastoma.
"It was a deeply felt loss for my family," said Myles. "Mac was so young, with so much life to live. I wanted to stay strong for Mac and my family and stay hopeful.
"I channeled everything I was going through with losing Mac into my music. I'm proud to use my platform to bring increased awareness to Glioblastoma and the work of the Glioblastoma Foundation."
Myles is featured in a digital campaign highlighting the urgent need for funding to support the development of new, more effective treatments to help Glioblastoma patients live longer and more comfortably.
Glioblastoma is the most common and most deadly form of brain cancer, with an overall five-year survival rate of just 5 percent. Each year, over 15,000 people are diagnosed with Glioblastoma and half of those diagnosed pass away within one year.
While Glioblastoma has received more attention in recent years due to the introduction of Glioblastoma Awareness Day in 2019 — more public education and research funding is desperately needed.
"We are so grateful to Morgan for sharing her story with us, and for her efforts to bring more awareness and urgency to this deadly disease, for which we desperately need increased funding for new, more effective treatments," said Gita Kwatra, PharmD, MBA, and CEO of the Glioblastoma Foundation.
"The current standard of care for Glioblastoma falls short. Every dollar donated to the Glioblastoma Foundation can make a difference and help fund essential research that will lead to better treatment options and, ultimately, a cure," explained Gita.
To learn more about the Glioblastoma Foundation's research initiatives and how you can get involved, visit https://glioblastomafoundation.org and follow the Glioblastoma Foundation on Facebook, Instagram, Twitter, and YouTube. Email info@glioblastomafoundation.org for additional information.
Source: Glioblastoma Foundation