The USSA Hosts Second Annual American Pavilion at the Fort Lauderdale International Boat Show With Signature Daily Events
Press Release
•
updated: Nov 15, 2017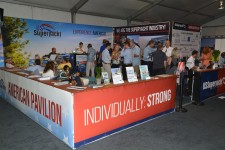 Fort Lauderdale, FL, November 15, 2017 (Newswire.com) - The U.S. Superyacht Association (USSA) is celebrating the success of the second production of its American Pavilion during the 58th Annual Fort Lauderdale International Boat Show. The American Pavilion, the Show's largest and most vibrant land-based exhibition, has quickly become "the place" to meet, network and do business. It included an exhibition of its membership through exhibit space, a designated Members-only Lounge, a Seminar Stage, and networking events created to attract qualified traffic.
The Opening Ceremony once again featured a bagpipe processional, presentation of colors by the Fort Lauderdale Police Department and the singing of the National Anthem by USSA President Kitty McGowan. The Taste of Fort Lauderdale kicked-off the evening networking event schedule with a delectable array of tastings from the finest local dining establishments including Beehive Kitchen, Café Ibiza, The Historic Downtowner & Maxwell Room, Louie Bossi's Ristorante, Red Chair Catering, Seasons 52, Slacker's Bar & Grill, Tsukuro, and Whole Foods Market.
Thursday brought the USSA's first annual Superyacht Signature Sip Cocktail Competition, sponsored by MHG Insurance Brokers, Bluewater, and Ocean Wine & Spirits. In this interactive cocktail competition, guests got the opportunity to meet their USSA Board Members and event sponsors who rolled up their sleeves to serve six signature cocktails highlighting Papas Pilar Rum and Deep Eddy Vodkas.
The highlight of the week's activities was the sold out USSA Annual Meeting, sponsored by Aere Marine Group, Alexseal Yacht Coatings, Chelsea Clock, IGY Marinas and Superyacht Northwest on Friday, November 3rd aboard the Grand Floridian. This gathering of industry leaders and the media included an overview of the year's successes, announcement of the new 2017-2018 Board of Directors, and celebrated some of our industry's champions with the presentation of the Golden Compass Award to Phil Purcell, President of the Marine Industries Association of South Florida and the Beacon Award to Lisa Morley, Maritime Professional Training for her work and dedication to raising money for charity.
Daily Activities in The American Pavilion included Continental Breakfast sponsored by RPM Diesel and Beer, Wine and Spirits Tastings sponsored by Ocean Wine & Spirits, and an exciting mix of informative presentations on the Superyacht Seminar Stage presented by InSite Group. A full list of topics and speakers can be found at www.ussuperyacht.com
USSA Members, Exhibitors and guests closed the show in style on Sound the Horn Sunday with a champagne toast and noisemaker salute as the yachts on the face dock all honked their horns to signal the close of the show.
The American Pavilion Exhibitors
USSA Members and Partners Exhibiting in The American Pavilion included Advanced Mechanical Enterprises (AME), Association of Superyacht Support Services (AYSS), AvMar Marine Glass, Inc., Boening
USA, Inc., DAN Boater, Delta T Systems, Ditec Marine, Fairhaven Shipyard Companies, Inc., FunAir, InSite Group, Livewire Connections, Marina Casa de Campo, Maritime Professional Training, Megafend, MHG Insurance Brokers, Motor-Services Hugo Stamp, Inc., Novamar Insurance Group, Inc., Parker Yacht, PRIVA by Global Eagle –MTN, RPM Diesel, Saunders Yachtworks, SeaSatCom/TechnoGroup, Superyacht Northwest, Tess Electric/VBH USA, The Marshall Islands Registry, United Yacht Transport, Yacht Detail Artist and Yachtprojects International.
The Refit America Salon presented by Tradesmen International
New to The American Pavilion this year was the Refit America Salon presented by Tradesmen International, which showcased some of America's finest refit industry resources for world-class superyacht service, repair, building, and cruising. Featured in the Refit America Salon were: Cape Charles Yacht Center, Fairhaven Shipyard Companies, Inc., Jones Superyacht Miami, Inc., Saunders Yachtworks, Thunderbolt Marine, Inc., and Tradesmen International.
Special thanks to Tom Serio Photography.
The U.S. Superyacht Association (USSA) is a non-profit trade association incorporated in 2006, with the mission "To promote and support the U.S. Superyacht industry and its members worldwide through advocacy, marketing and education." For more information on the USSA and the 2017 Superyacht Summit visit ussuperyacht.com, call 800-208-5801 or email info@ussuperyacht.com. Like the USSA on Facebook at /USSuperyacht.
###
Source: US Superyacht Association
Related Media
Tags
Related Files
Additional Links