The Urban Outlaw Magnus Walker Featured on 'Caffeine and Octane' TV Show
Tune in Tuesday, Sept. 11, at 8 p.m. on the NBC Sports Network to See the Legendary Porsche Collector
Press Release
-
updated: Sep 11, 2018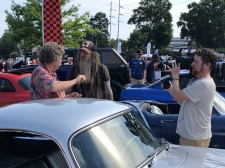 ATLANTA, September 11, 2018 (Newswire.com) - Porsche enthusiast and fashion designer Magnus Walker makes his debut on the hit TV show Caffeine and Octane on Sept. 11. Airing at 8 p.m. ET on NBC Sports Network, the episode follows Walker as he checks out a Porsche collection in the North Georgia Mountains owned by Karl Boegner, proprietor and winemaker emeritus of Wolf Mountain Winery. After test driving Boegner's 1974 Porsche 911 Carrera, the duo head south to Atlanta to attend the nation's largest monthly car showcase Caffeine and Octane.
Walker's love for Porsche started in 1977 when he first set eyes on a 911 at a car show in London at age 10. Fifteen years later, he purchased his first Porsche and has been collecting, racing and restoring the German sports car ever since. During the episode, Walker shares his passion for the brand and love of driving with other car collectors and enthusiasts. His first visit to the Caffeine and Octane car showcase in Atlanta leaves him speechless, awestruck by the size of the crowd and their appreciation for cars.
"It was a true honor to have Magnus join us on an episode of Caffeine and Octane," says Ed Coughlin, executive producer and writer for Caffeine and Octane. "We're always seeking out unique stories for the show and Magnus has one of the most interesting and inspiring among today's collectors. From humble beginnings, his love for cars and talent for design has led him to where he is today. It was an incredible opportunity to film with him and now share it with Caffeine and Octane viewers."
Caffeine and Octane airs Tuesday nights from 8–9 p.m. on NBC Sports Network, with additional air times from 11 p.m.–12 a.m. ET (8–9 p.m. PT) and 2–3 a.m. ET (11 p.m.–12 a.m. PT).
About Caffeine and Octane
Caffeine and Octane is an integrated media brand and host of the nation's largest monthly car showcase that reaches millions of auto enthusiasts through its events, television show and digital programming. Its signature event, Caffeine and Octane, takes place the first Sunday of every month from 8–11 a.m. at Perimeter Mall in Atlanta, regularly attracting more than 2,500 vehicles and 15,000 fans. The brand is also behind the critically acclaimed national TV show Caffeine and Octane, which airs on NBC Sports Network. Additional events include its quarterly Caffeine and Exotics as well as the annual Caffeine and Octane at the Beach. For additional information, visit www.caffeineandoctane.com, and follow us on Facebook, Twitter, Instagram and YouTube.
Colleen Murphy
​Trevelino/Keller
​cmurphy@trevelinokeller.com
Source: Caffeine and Octane
---
Categories: Television Programs, Automotive
Tags: 911, Auto, automotive, cars, Porsche, programming, sports car, TV, TV show
---