The U.S. Superyacht Association Announces 2017-2018 Board of Directors at Annual Meeting During 58th Annual Fort Lauderdale International Boat Show
Press Release
•
updated: Nov 14, 2017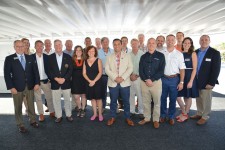 FORT LAUDERDALE, Fla., November 14, 2017 (Newswire.com) - The U.S. Superyacht Association (USSA) proudly announced its 2017-2018 Board of Directors during its Annual Meeting on Friday, Nov. 3, 2017, during the Fort Lauderdale International Boat Show. The Annual Meeting was held aboard the Grand Floridian yacht at Bahia Mar.
Incoming Board Members include:
Chair: Kate Pearson, Safe Harbor Marinas
Vice Chair: Diane Byrne, Megayacht News
Marketing Co-Chairs: Megan Bintinger, Port of Seattle; Bert Fowles, IGY Marinas
Advocacy: Peter Schrappen, Northwest Marine Trades Association; Jay Dayton, Avon Dixon Insurance
Membership: Clayton Swart, MHG Insurance; Matt Rosenberg, Colony Hardware
Treasurer: John Fitzgerald, Saunders Yachtworks
Governance: Jeff Cox, Cox & Company
Past Chair: Rick Gladych, Raven Offshore Yacht Shipping
Regional Board Members include:
SE Region: James Maitland, Propspeed/Oceanmax International
SW Region: Todd Roberts, Marine Group Boatworks
NW Region: Marty Marchant, Westport
Great Lakes Region: Jim Ruffolo, Burger Boat Company
NE Region: Marc Gadbois, Tradesmen International
Mid Atlantic: Eyre Baldwin, Cape Charles Yacht Center
Gulf Coast: Ian Bowles, Alphatron Marine
At-Large Board Members Include:
JB Turner, Front Street Shipyard
Brian Luke, Bluewater Crew Training
Ted McCumber, Feadship America
Aaron Leatherwood, RMK Merrill-Stevens
Steve Ryder, Bellingham Marine
Audrey Hodgdon, Hodgdon Yachts
"The strength and the talent of this new board are absolutely incredible!" said new chairman Kate Pearson, Safe Harbor Marinas. "We've increased the size of our Board this year to better represent our growing membership base and to focus on those areas that will continue to be our major focus in the coming year. Membership and Marketing now have co-board positions to help share the load. It's an amazing group of professionals!"
Photo Credit to Tom Serio Photography.
The U.S. Superyacht Association (USSA) is a non-profit trade association incorporated in 2006, with the mission "To promote and support the U.S. Superyacht industry and its members worldwide through advocacy, marketing and education." For more information on the USSA and the 2017 Superyacht Summit, visit ussuperyacht.com, call 800-208-5801 or email info@ussuperyacht.com. Like the USSA on Facebook at /USSuperyacht.
Source: US Superyacht Association
Tags
Related Files
Additional Links