The Truth is Out There: Millennials Turn to Sites Like Ask Astrology for Zodiac Insight and Guidance
Press Release
•
updated: Dec 17, 2018
It is all in the stars, but now it is on the Internet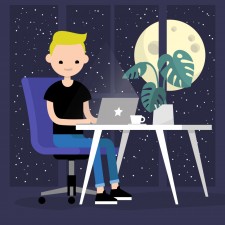 NEW YORK, December 17, 2018 (Newswire.com) - Astrology has been practiced for thousands of years – and today, the ancient practice is getting a thoroughly modern online revival. Millennials facing an uncertain future are turning to websites like Ask Astrology for profound guidance from an ancient, yet new, constellation of wisdom.
Ask Astrology, which launched in late November 2018, has enjoyed fast growth as it taps into a Millennial thirst for knowledge. The site aims to evolve into a "Wikipedia" of the ancient practice, revealing that many of its visitors were not from the flower power generations of the 1960s and 1970s – but instead, from the Millennial generation.
It is all in the stars, but now it is on the Internet
Ask Astrology, which offers access to daily, weekly, monthly, and yearly horoscopes, believes that this startling demographic shift has come about as a result of today's younger generation seeking the answer to some of life's greatest questions.
Some older generations might mutter darkly about Millennials' love of avocado toast, overly liberal ways, and obsession with social media and selfies rather than life's more profound moments. However, the Millennial generation has turned to spirituality – and astrology – to make sense of a modern world that often isn't, revealing that the generational gap may not be so large, after all.
"The world is in a state of change right now and people are looking for answers. Who can they trust? Is this career choice right for them? Is their current partner the right one? These are profound questions for any of us, and Millennials understand that the planets – and the spiritual – can offer new perspective and insight," said Guillaume Peter, spokesperson for Ask Astrology.
Unlike many other astrology sites, Ask Astrology has completely open access to all of its areas, offering a comprehensive view of everything astrology without subscriptions or paywalls. The site is already branching out, with information on love compatibility, numerology, and tarot, with more information being added daily to feed people hungry for more knowledge.
Ask Astrology has also created an app for iTunes (iPhones) and Google Play (Android), called My Personal & Daily Horoscope, which gives users fully personalized, daily updates on their personal astral situation, blocking point, and luck opportunities.
"We're creating a 'Wikipedia' of this information that takes this information from those stars and puts it on the internet, or even in the pockets of people through our Android and iPhone apps," added Peter. "We believe everyone has a right to know – and that people shouldn't have to pay for the truth that the stars tell us."
For more information about astrology and to get a daily horoscope reading, please visit Ask Astrology. For all general and media inquiries, please email Guillaume Peter at guillaume@askastrology.com.
About Ask Astrology
Ask Astrology is a team of dedicated astrology enthusiasts with a mission to provide people with information on all things astrological. The website explores astrology and many other related topics, including tarot, love compatibility, and numerology. To unlock the secrets of the universe – and the path forward in life, visit Ask Astrology today to join a vibrant community of knowledgeable members.
Source: Ask Astrology
Related Media
Additional Links