The Truth About Drugs at the NFL Championship Weekend
The Foundation for a Drug-Free World is calling on prominent sports figures to take a stand against drug abuse in the wake of America's deadly opioid epidemic.
Press Release
-
updated: Feb 1, 2018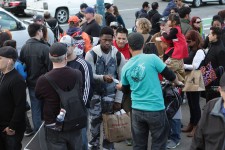 Minneapolis, Minnesota, February 1, 2018 (Newswire.com) - More than 64,000 Americans died of overdose in 2016. In Minneapolis — where the big game will be played — and the surrounding county, overdose deaths spiked by 57.7 percent. And although the national statistics are not yet in for 2017, the opioid crisis was even more deadly last year. 
To make an impact on this critical issue and save lives, volunteers from across the U.S. are in Minneapolis this week to bring the Truth About Drugs campaign to some of the country's most influential thought leaders to urge them to speak out about drugs.
"In addition to handing out copies of our Truth About Drugs booklets, we will be speaking with athletes to encourage them to come out against drug abuse," says Jessica Hochman, Executive Director of the Foundation for a Drug-Free World International. "Among the most tragic victims of the opioid crisis are young athletes who begin taking painkillers for sports injuries and wind up on heroin. We believe that if NFL players take an active role in promoting drug-free living, they can make a huge difference in the decisions young people make."
The Foundation for a Drug-Free World is a secular nonprofit corporation that empowers youth and adults with factual information about drugs so they can make informed decisions to live drug-free. The Foundation's Truth About Drugs campaign is one of the world's largest nongovernmental drug education and prevention initiatives. The Foundation provides drug education booklets, documentary videos and an educator guide free of charge to teachers, mentors and civic and community leaders.
According to United Nations Office on Drug Abuse and Illicit Trafficking, "Every dollar spent on prevention can save governments up to ten dollars in later costs."
Source: ScientologyNews.org
Share:
---
Categories: Non Profit, Professional Sports, Substance Abuse, Addiction
Tags: Foundation for a Drug-Free World, Minneapolis, NFL Championship, opioid epidemic, The Big Game
---