The Triitus Hyperclient, a CSfC Solution, Partners With CipherDriveOne, an NSA CSfC Hardware Data-at-Rest Layer
Press Release
•
May 16, 2023
New Partnership Protects Cross-Domain Remote Users From Hackers and Ransomware Trying to Steal Sensitive Data on Laptops and Workstations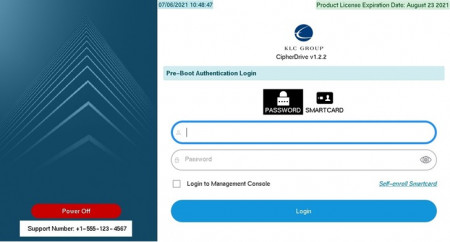 SAN JOSE, Calif., May 16, 2023 (Newswire.com) - Triitus is a cutting-edge solution that is making waves in government cybersecurity. In partnership with KLC Group and using CipherDriveOne technology, Triitus adds to its position to meet the NSA CSfC Data-at-Rest requirements, ensuring its clients have the highest level of Data-at-Rest security possible. With the growing use of cross-domain platforms by defense contractors, military, and government, it is important for all to take necessary measures to protect their sensitive information.
The Triitus Hyperclient is a powerful and secure solution for remote or mobile access to classified government systems. With a comprehensive set of capabilities, the Triitus Hyperclient provides an unmatched level of protection for existing networks. The Triitus Hyperclient provides secure isolation and leverages Hardware-Assisted Security, delivering robust protections over networks without impact to performance. Additionally, Triitus offers over-the-air management capabilities to administer and maintain the deployed solution. The result is easier centralization of management processes and effortless user experience when it comes to Virtual Desktop Infrastructure (VDI). On top of that, all this functionality works seamlessly on both thin and thick clients, so organizations can choose the right type based on their needs.
CipherDriveOne, a KLC Group Company, adds an additional layer of key encryption and authentication on top of any OPAL 2.0 self-encrypting hard drives. The protection of the hard drive's content is immediate, operating system agnostic and governed by a certified FIPS-140-2 level key encryption technology with the availability of single and two-factor authentication. The problem is that a self-encrypting hard drive is at its most vulnerable point when the computer is turned off and the data is at rest.
"Working with another industry leader on DAR will be a big win for government," said Kurt Lennartsson. "We are pleased to layer CipherDriveOne software to meet and exceed the CSfC DAR standard."
With CipherDriveOne, the hard drive is locked with a pre-boot authentication software preventing the hard drive from being accessed by an unauthorized user. Once combined with any Common Criteria SSD, CipherDriveOne provides Triitus one full independent layer of encryption to meet the NSA's CSfC Data-at-Rest requirement.
"Triitus pushes the envelope in providing the highest level of security with the Triitus Hyperclient," said Kevin Kuhns, COO. "We are pleased to partner with CipherDriveOne to provide a layer of full disk encryption per the CSfC DAR standard."
CipherDriveOne is FIPS and Common Criteria certified. It is listed on the NSA's Commercial Solutions for Classified Program (CSfC) under Hardware Full Disk Encryption. Link: https://www.nsa.gov/Resources/Commercial-Solutions-for-Classified-Program/Components-List/#hw-fde
About Triitus
Triitus expertly develops and deploys configurable commercial off-the-shelf (COTS) cyber-defense products. Recognizing the need to bring critical data to the tactical edge, Triitus' founder engineered the original design that Commercial Solutions for Classified (CSfC) concepts are now modeled on. CSfC implementations are a viable option for all federal enterprises wishing to untether and enhance the protection of classified work. Triitus empowers your personnel by providing management systems that support automated updates and granular control, secure access to classified networks, and fortify end-user devices that perform on par with commercial products. As leaders in the field, Triitus takes pride in being at the forefront of IC and DoD technical security innovation.
Chris Elliott
Business Development Lead
info@triitus.com
About KLC Group and CipherDriveOne
CipherDriveOne, a KLC Group Company, is an innovative Silicon Valley cybersecurity company. We are experts in software and hardware devices and network security products. CipherDriveOne takes an innovative approach to product design. Our primary goal is to design secure and privacy-oriented products for the Internet. Founded in 2007, KLC Group is headquartered in San Jose, California. Visit cipherdriveone.com for more information.
KLC and CipherDriveOne PR Contact
John C. Myung
President
john@klc-group.com
Source: KLC Group LLC
Related Files