'The Thursday Night Club' Collaborators Monty Hobbs and Matthieu Chazareix Continue to Create Inspiring Work Together
Press Release
•
Aug 24, 2022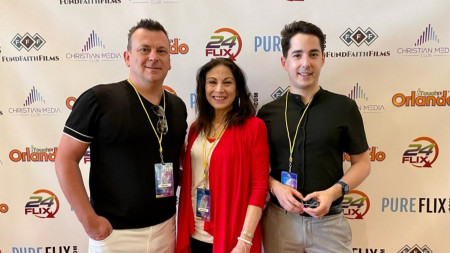 NEW YORK, August 24, 2022 (Newswire.com) - Three years ago, producers Monty Hobbs and Matthieu Chazareix met while filming an upcoming docu-series, interviewing people across the country during the pandemic. Today, they are announcing their new slate of content under the newly formed Heartlight Entertainment.
Monty Hobbs is a seasoned film and television veteran from North Carolina whose credits include dramas as well as work on several unscripted and reality shows. Before working on this show, he had no idea it would ignite a new chapter in his career.
"This is bigger than all of us," said Hobbs about the work he is putting out with Chazareix. "It's great to have this opportunity to team up with some wonderful partners and spread kindness."
For Matthieu Chazareix, this relationship not only inspired a new purpose but launched his career as a producer. During his first collaboration with Hobbs, Chazareix decided that he wanted to use media to bring people's unique lives to the screen.
Their shared experience, which aimed to bring audiences a message of hope and kindness, united Hobbs and Chazareix and sparked a relationship which has resulted in many collaborations, including the upcoming Christmas film 'The Thursday Night Club', with a budget of $1 million. The drama, set at Christmas time, explores themes of grief, hope, and altruism. Disco legend and Grammy winner Gloria Gaynor will make her acting debut along with music from hall of fame drummer and composer Carmine Appice. The film will be released on Sony Pureflix and other major platforms on Nov. 1, 2022.
Looking to the future, the pair has several series in the pipeline. Currently in production is 'Divine Renovation', a home improvement reality series which has already garnered interest from media distributors and will be hosted by California Highway Patrol star Eric Estrada. Based on the belief that "small fixes can make big miracles happen", the show will bring a spiritual element to the successful home improvement genre.
Hobbs and Chazareix are joining forces with the director of 'The Thursday Night Club', Valerie Smaldone, to create two more shows. The first follows an extraordinary missionary who has witnessed some of the most critical moments in recent history. The second will tell the story of a spokesperson for a major brand, her philanthropy, and her rise to fame.
"Our recipe for doing business in this industry, while coming out of a world pandemic and entering a recession, is based on a formula we believe to work: fast-turnaround projects, efficient spending, and robust distribution plans," said Chazareix and Hobbs. Together, their work is available on major platforms such as Hulu, Netflix, HBO, and Lifetime.
Monty Hobbs
Matthieu Chazareix
Valerie Smaldone
Source: Heartlight Entertainment