The Teal Leopard Introduces Martha's Vineyard Inspired Pillow Collection
Pillow Covers are from designer quality home decor fabrics and materials. Handcrafted quality details & artisan quality workmanship.
Press Release
-
updated: Oct 16, 2017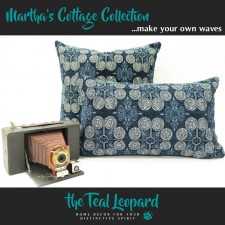 Broken Arrow, OK, October 16, 2017 (Newswire.com) - On October 17th, custom home decor designer and fabricator Marilie W. Smock will host a pre-release preview event at her new studio space in Broken Arrow. Smock owns Cord & Pleat Design, Inc., and is launching a new home decor line under her the Teal Leopard brand.
Named the Martha's Cottage Collection, it's a collection inspired by Smock's grandmother, a pilot and traveler. "She flew planes all over the U.S. Later, she was one of the first female executives for J.C Penny's, in human resources. Truly a woman before her time and an inspiration to many…. and certainly to me," Smock said.
Smock's grandmother, Martha Lingenfelter, traveled to many places, and the new collection celebrates the stories Lingenfelter told. "The story of the collection is: I imagined what kinds of notes and stories my grandmother would have from a trip to Martha's Vineyard in the '40s and each pillow is based on a place she might have visited there – along with a short entry as I would have envisioned it in her journal," Smock said.
Smock is driven by the idea that someone's home should reflect the personality, tastes, and lifestyle of the people who live in it, and should do it with style and quality.  "I noticed a distinct lack of quality fabrics and detail options in many home decor products, so I strive to provide designer quality fabrics and handcrafted designer details that are typically only available from custom made products," Smock said.
The pre-release event for the limited edition Martha's Cottage Collection from the Teal Leopard is from 4p to 8p on Tuesday, Oct. 17th at 24212 E. Highway 51 in Broken Arrow. Items from the collection will be made available for sale first to attendees. The collection will be available to the general public via the website thetealleopard.com beginning at midnight on October 18th. Light refreshments will be served at the event.
About the Teal Leopard Brand
Creating pillows, table linens, and decor to accent your home with your distinctive spirit is what the Teal Leopard is all about. A leopard's spots are truly unique and your home should be as distinctively yours, too. The Martha's Cottage Collection is a limited edition collection and the first one to be released under the Teal Leopard brand. More online at: theTealLeopard.com
About Marilie Smock
 Marilie holds designations from the Custom Home Furnishings Academy in Charlotte, NC. She works hard to stay updated on the new trends and techniques in the field of Custom Window & Bed Treatment Design & Fabrication by attending annual conferences and is an active member of the Window Coverings Association of American, Workroom Association of America, and Window Fashion Certified Professional. Marilie has owned and operated Cord & Pleat, Inc., a custom home decor design and fabrication studio, since 2002. She recently launched the Teal Leopard, a brand of ready-made high quality home decor items gathered into distinctive collections. More online at cordnpleat.com
About Martha Lingenfelter:
Martha Jean Baker Wood Lingenfelter (on right): September 19, 1917 – January 20, 1999
​For more information or interviews, contact Marilie Smock at 918-994-7067 or cordnpleat@gmail.com
Alternative contact: Mandy Vavrinak 918-633-4397 or mvavrinak@mac.com
Source: the Teal Leopard
Share:
---
Categories: Interiors and Decoration, Retail, Furnishings
Tags: Decorative Pillow Covers, Decorative Pillows, Pillow Covers, Throw Pillow Covers, Throw Pillows
---