The Summer is Not Over Yet With SmartGuide
Press Release
-
updated: Sep 11, 2019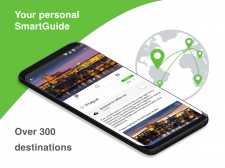 PRAGUE, September 5, 2019 (Newswire.com) - Visiting the major tourist hotspots in Europe during the peak summer months can be a  terrifying experience for many travelers, especially when they have to deal with suffocating crowds getting in their way to the popular bucket list locations. 
Imagine walking towards the Fontana di Trevi to toss a coin into the famed fountain or exploring the beautiful scenery around the San Marco Plaza. One would have to squeeze through the crowds during peak season.
For the smart traveler, the best travel season starts with September as the temperatures cool down. Most people return back to work, and prices get more friendly across Europe. This year, there is one more reason to set out on a trip: SmartGuide has just released over 300 new destination guides in just one app. Moreover, all the new tours are available for free until 9/30/2019.
SmartGuide is a digital tour guide with offline navigation for travelers who want to explore at their own pace, listen to immersive stories, prepared by local guides and discover hidden gems.
SmartGuide is currently helping over 100,000 travelers experience travel in the most remarkable ways. Take Peter Zohner, for example, a Front End Developer from Germany who has presently explored over 60 cities via the SmartGuide app and made a decision to not just tick off cities on his bucket list but also to create memories that he believes would last a lifetime.
Peter Zohner, who is a frequent user of the SmartGuide app, is enjoying the perks that come with traveling and working remotely, enjoying longer holidays and seeing a lot of his travel goals achieved, says about SmartGuide: "For me, traveling light only with my mobile phone is essential. I do not want to carry thick guidebooks or maps along, so SmartGuide is a perfect companion for me. All I need to get around a city and explore is on my phone, even when the Wi-Fi goes off!"
At a press briefing in early 2019, and upon receiving seed funding, Jan Dolezal, CEO and Co-Founder, promised that the funding received will help "to expand into 300 destinations, enhance the technology and to build up strategic partnerships with attractions, tour operators, transportation companies and other partners whose customers benefit from a modern guide." 
"We have partnered with Regiojet to turn commodity transportation into memorable tour experiences for over 12 million RegioJet passengers. With a massively growing tourist population in the city of Prague, SmartGuide has been able to channel over 30% of tourists visiting the city with SmartGuide to other surrounding neighborhoods, thereby helping tourists explore more experiences and scenic routes." - Vaclav Jurcicek, CSO.
SmartGuide is on track to becoming the definitive digital audio guide with the widest coverage by 2020, as they are underway to receiving Series A funding in early 2020.
To try SmartGuide, download it on the App Store.
Contact: Jan Dolezal​ ,  jan@smart-guide.org , +420799995999
Source: SmartGuide
Share:
---
Categories: Travel
Tags: AR, Augmented Reality, guide, over tourism, startup, tourism, travel, travel tech
---