The Stay Fit Mini Gym is World's First, Full-Body Gym That Fits Into the Palm of the User's Hand
The first of a kind, pulley-based mini gym that makes working out anywhere, easy, effective and affordable.
Press Release
-
updated: Nov 24, 2018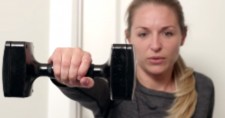 SEATTLE, November 24, 2018 (Newswire.com) - Today, Stay Fit Mini Gym TM announced the public launch of its Kickstarter campaign for its patent-pending mini gym that delivers big fitness results, yet fits into the palm of the user's hand. 
In these rapidly changing times, most people are time-constrained – by the demands of their work, school, family, and friends – which makes it a challenge to find the time to work out. The Stay Fit Mini Gym was developed to help people work out anywhere, anytime... whenever and wherever it's convenient.
Take the gym anywhere. With Stay Fit Mini Gym the user can exercise at home, at work, while watching TV, when traveling, in a dorm room, at the beach, and even in the John!
Stay Fit Mini Gym can be used for weight training, functional training or physical rehabilitation. The mini gym consists of a barbell-shaped, rugged plastic casing, that houses an adjustable pulley system. The Stay Fit Mini Gym's adjustable pulley system enables the user to perform over 100 exercises to get a full body workout.
The Tension Dial can be adjusted to provide "weight settings" ranging from 4 – 25 pounds (patent pending). Just turn the red tension dial to the desired weight resistance setting. The connected cables adjust to the weight setting by increasing or decreasing the tension. The base unit comes with a versatile handle to enable an assortment of safe exercise positions.
Safety comes first. Stay Fit's anti-snapback safety catch technology (patent pending) can prevent equipment injuries that can occur with regular gym equipment. This safety technology "works like a seatbelt" – when a seatbelt is pulled fast it stops. The equipment acts similarly – if the handle slips out of the user's hand, it stops!
Benefits: 
1. It can be used for weight training, physical rehabilitation or functional training.
2. The technology is first of its kind with over 100 exercises that can be performed
3. It is easy to use and portable, to help the user maintain user fitness no matter where the user goes.
About: 
The goal is to make the Stay Fit Mini Gym into a household name, helping bring better health and fitness within the grasp of virtually everyone for less than a hundred dollars.
Visit our website and Kickstarter Campaign www.stayfitminigym.com
Stay Fit Mini Gym Kickstarter Campaign: https://www.kickstarter.com/projects/stayfitminigym/stay-fit-mini-gym?ref=nav_search&result=project&term=stay%20fit 
Press Contact Information
Stay Fit Mini Gym
info@stayfitminigym.com
Source: Stay Fit Mini Gym
Share:
---
Categories: Exercise and Physical Fitness, Rehabilitation and Physical Therapy
Tags: AP, cable exercise, dumbbell, exercise, fitness, health, long life, Mini Gym, newswire, press release PR, stay fit, stay fit mini gym
---