The Sayra and Neil Meyerhoff Center for Families, Children and the Courts Honored With the National Council of Juvenile and Family Court Judges Impact of the Year Award
Press Release
•
Jul 21, 2023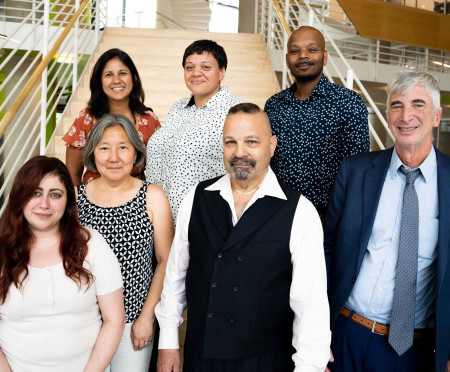 BALTIMORE, July 21, 2023 (Newswire.com) - The Sayra and Neil Meyerhoff Center for Families, Children and the Courts (CFCC) was recently awarded the Impact of the Year Award by the National Council of Juvenile and Family Court Judges (NCJFCJ). This accolade is a tribute to the organization's exceptional efforts in rethinking, reimagining, and redefining justice for children and families. The award was presented on July 18, 2023, at the 9th annual Justice Innovation Awards ceremony in Baltimore during the NCJFCJ's 86th Annual Conference.
CFCC encourages lawyers and judges to apply the law and legal processes in ways that account for the complex circumstances that affect the lives of individuals and families. The organization has been a national leader in the movement for a unified family court system, and also develops educational programs for law students, lawyers, and judges, focusing on legal processes and community activities that have a direct impact on children and families.
"The NCJFCJ is proud to recognize CFCC's dedication to redefining justice for children and families with programs that are making a profound difference in the lives of those they serve," said NCJFCJ President Judge Gayl Branum Carr. "It is truly commendable. We applaud the organization for advancing the NCJFCJ's vision of a society where every family and child has access to fair, equal, effective, and timely justice."
Launched in 2005, CFCC's Truancy Court Program is a voluntary, non-punitive, holistic, and data-driven intervention that works to identify and address the root causes of truancy for each child. The program seeks to improve behavior and student and family attitudes toward school and helps build a foundation for long-term academic success. The program goes beyond addressing truancy and actively supports the family unit. By providing counseling, crisis assistance, access to legal aid, social services, and mentoring, CFCC ensures that participating families receive comprehensive wrap-around and trauma-informed services.
"We are honored to receive this award in recognition of the years we have spent working with Baltimore's most vulnerable youth and their families to increase their engagement in school," said CFCC Faculty Director Shanta Trivedi. "We are grateful for the opportunity to work closely with the judiciary and collectively brainstorm ways to minimize harms caused by legal system interaction. We look forward to continuing to work collaboratively with the community and bench to support families in Baltimore and beyond."
The NCJFCJ also honored Judge Michael Montero of the 6th Judicial District Court in Humboldt County, Nevada, as the Innovator of the Year Award recipient for his dedication to implementing evidence-based programs within specialty courts.
For more information, please visit the NCJFCJ website.
About the National Council of Juvenile and Family Court Judges (NCJFCJ):
Founded in 1937, the Reno, Nevada-based National Council of Juvenile and Family Court Judges is the nation's oldest judicial membership and education organization focused on improving the effectiveness of our nation's juvenile and family courts. A leader in continuing education opportunities, research, and policy development in the fields of juvenile and family justice, domestic violence, and domestic relations, the 2,000-member organization is unique in providing practice-based resources to jurisdictions and communities nationwide. The NCJFCJ serves an estimated 30,000 juvenile and family court professionals in state and tribal courts throughout the country.
Source: National Council of Juvenile and Family Court Judges