The Savior Complex Releases New Song, Video to Follow
The Savior Complex will release their debut new single called "Halo." A corresponding music video will be released as well.
Press Release
-
updated: Jul 8, 2019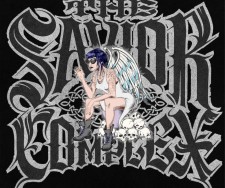 LAS VEGAS, June 14, 2019 (Newswire.com) - The Savior Complex is excited to announce the release of their first single "Halo." An accompanying video will also be released on Friday, August 9.
Band founders Anthony X (also known as, the Sinister Minister) and Jay Gordon have crafted a three minute and 56-second song that brings a modern music experience to the listener. Anyone who's been through an unsuccessful relationship will be able to relate to "Halo." The track is one of a kind because it can be looked at from different angles. When listening to the song, listeners may question if they need to take off their halos.
The Savior Complex will be releasing a music video for "Halo". Directed by well-known photographer Dean Karr, the "Halo" music video will give listeners a different perspective of the song. There's plenty more to come from The Savior Complex; look for the release of their other singles, "Caroline," "F-Bomb," and "People Are People," a cover version of the Depeche Mode song. The singles all accumulate on their debut E.P., co-written and produced by Jay Gordon.
About The Savior Complex: Based in Las Vegas, The Savior Complex is a stand-out band that will be making waves in the music industry before you know it. Creators Anthony X (also known as the Sinister Minister) and Jay Gordon have shaped The Savior Complex to bring a unique sound with an avant-garde feel to listeners. Gordon is known for his work with well-known bands like Orgy, Korn, Linkin Park, and Crazytown. The creators of The Savior Complex are no strangers to the music industry, and the unique sound will have listeners hooked from the first listen.
The Savior Complex derived their name from a common phrase seen in everyday life. The savior complex is defined by Psychology Today as: "A psychological construct which makes a person feel the need to save other people. This person has a strong tendency to seek people who desperately need help and to assist them, often sacrificing their own needs." What's especially interesting is how deep these three words go. On the surface, selflessly helping someone is undoubtedly a noble deed. When analyzing this further, it's easy to think: "Are a savior's actions any less noble if the end result isn't favorable for the person in need? Is a savior complex always driven by pure motives? Is it better to save people instead of leaving them responsible for helping themselves? 
The band's music has similar qualities to this age-old construct. Every person who listens to the lyrics will connect with them in different ways, finding different meanings and asking themselves different questions. The Savior Complex believes music has the power to touch the soul, connecting with the struggles and triumphs everyone feels, every day.
Source: The Savior Complex
Share:
---
Categories: Music
Tags: Anthony X, Jay Gordon, Rock Music, The Savior Complex
---