The Royal Dance Academy Offers an Intensive and Artistry-Focused Summer Burn Program
Press Release
•
updated: Mar 12, 2019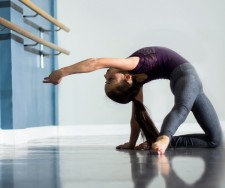 SUWANEE, Ga., March 12, 2019 (Newswire.com) - The Royal Dance Academy, located in Suwanee, Georgia, announces its summer burn class schedule for prospective students. The summer burn program is especially important for helping young students to stay in peak performance condition between the spring and fall semesters.
The summer burn schedule offers classes for students ranging from ages 6-18 and covers a wide range of technical development. These classes focus on pre-pointe to en pointe, strength, conditioning and isolation, all designed to reinforce the students' learnings from the traditional semester system. Choreography and improv are also offered, rounding out the core concepts available.
Class times begin as early as 10 a.m., and an evening schedule is also available, with class times beginning at 4 p.m. Students from juniors to seniors are encouraged to take advantage of these classes, which are slated to begin June 4, 2019.
The Royal Dance Academy is also home to six young artists who took home awards at the Youth America Grand Prix Atlanta semifinals. The Atlanta finals of YAGP occurred Jan. 25-27, 2019, at the Ferst Center Theatre in Atlanta.
Awards included first and second place in the Men's Classical Ballet Competition for Colin Moser and Joshua Nunamaker (OMBTC), respectively. Colin, along with his sister, Carrington Moser, also won third place in the Ensemble Category, performing the pas de deux from "La Fille Mal Gardee." April Hattori (OMBTC) won third place in the Junior Classical Ballet Competition. Natalie Bumgarner (RDA) placed first in the Contemporary Dance Category for the pre-competitive age group. Oliver Keane (RDA) won first place in the Junior Division Contemporary Dance Category.
These students benefit from the rich and intensive learning environment that Royal Dance Academy offers through teachers with backgrounds in the Cuban National Ballet and the Royal Academy of Dance. With an emphasis on the art of performance over competition, the academy's instructors stress the importance of artistry and skill.
"When you are in a competition, you are not 'competing,' you are 'dancing,'" Orlando Molina of the Orlando Molina Ballet Training Center said. "The wrong approach is to 'compete.' The correct approach is to 'perform.' The more times a dancer steps onto a stage, it helps them to evolve. They grow from experience."
If you have any questions about upcoming classes, registration or the requirements, you can email us at info@goroyaldance.com or give us a call at (678) 929-3373.
Source: Royal Dance Academy