The Right to an Education Inspires the African Literacy Project
Press Release
•
updated: Oct 16, 2018
At an open house at the Church of Scientology Pasadena, a human rights advocate briefs the community on the African Literacy Project and the results of its summer Youth Literacy Leadership Initiative in Liberia.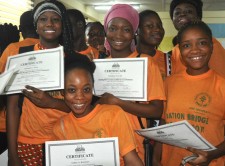 PASADENA, Calif., October 16, 2018 (Newswire.com) - "We have worked with young leaders in West Africa for nearly 13 years," said Tim Bowles to those gathered at the Church of Scientology for a briefing on the progress of his African Literacy Project.
In 2005, Bowles, as Youth for Human Rights International Director for International Development, launched the African Human Rights Leadership Campaign with Liberian human rights activist Jay Yarsiah to train young leaders in African countries for "human rights advocacy and the eradication of human rights abuses in their lifetimes." In doing so, he became convinced that Article 26 of the Universal Declaration of Human Rights, the right to education, is the one right that can open the door to the remaining rights in these beleaguered nations.
If we can assist Liberia to effectively address this enormous national challenge at the correct orders of magnitude, this project can and will play a substantial role in the social and economic recovery of a nation.

Tim Bowles, African Literacy Project
In Liberia, less than 43 percent of the adult population has achieved the minimum standards of literacy, defined as someone who can both read and write with understanding a short simple statement on his or her everyday life. And this level of literacy is far less than is required to compete in today's tech-based world economy. Among Liberian women, the literacy rate is far lower than the national average: only 27 percent. Little wonder that despite its endowment of water, rubber, forests, mineral resources including iron ore, diamonds, and gold, and a climate favorable to agriculture, Liberia is one of the most impoverished countries in the world. Bowles' answer is the African Literacy Project.
"In rural and urban Liberia," says Bowles, "we work because, for all the crushing reasons why such efforts should be fruitless, our student leaders confirm there is actually no social ill impossible to overcome. If we can assist Liberia to effectively address this enormous national challenge at the correct orders of magnitude, this project can and will play a substantial role in the social and economic recovery of a nation and region largely written off by the West as a lost cause for too many years."
His optimistic attitude about seemingly overwhelming odds is based on the exceptional results Bowles and Yarsiah have witnessed from implementation of Study Technology—a technology developed by humanitarian and Scientology Founder L. Ron Hubbard that provides an understanding of the basics of learning and supplies exact ways to overcome all the pitfalls one can encounter during study. "We are establishing an Applied Scholastics Liberia Literacy Center in Kakata, provincial capital of Margibi County," says Yarsiah. The location is key as Kakata is the site of the Liberian Rural Teachers College and other major national vocational training colleges and centers. The center will be a vital "train the trainers" facility for the application of Study Tech in classrooms nation- and region-wide.
This summer, two AME (African Methodist Episcopal) University professors trained at Applied Scholastics international headquarters in Spanish Lake, Missouri, for the implementation of Study Tech in that institution. These instructors have returned to Monrovia to pilot at AME U the first sustained Study Tech-based literacy advancement pilot in the country. Also for the second year running, over July 2018, Yarsiah and his project team delivered Study Tech to selected college-bound high school graduates as part of AME U's summer "Vacation Bridge" acceleration program.
"Whether viewed outside or in, the challenges in West Africa might be seen as insurmountable, in illiteracy, poverty, corruption, injustice. Yet, for over a decade now, we have dared to disagree, creating for starters the African Human Rights Leadership Campaign with youth in Liberia, Sierra Leone and Ghana to make a difference for the better, socially, culturally and economically," says Bowles. "Illiteracy remains the most deadly human rights violation of all as it permits the other, more 'newsworthy' rights calamities to occur.
"Time and again, first with Youth for Human Rights and now with Applied Scholastics, Jay and I have asked whether youth must settle for the assurance of elders that they will someday be the leaders of tomorrow. Is it possible that young people can be leaders today?" asks Yarsiah. "From where we stand now, the answer is emphatically yes, in the rural area particularly. It remains for us to help in every way feasible to assist in this process."
Applied Scholastics is a nonprofit, public benefit corporation dedicated to improving education with L. Ron Hubbard's learning and literacy tools, collectively known as Study Technology. Originally developed for use in Scientology course rooms through the 1960s, Study Technology has since become a worldwide phenomenon for the fact it routinely raises reading and comprehension levels 25 to 35 percent. Based in Missouri, Applied Scholastics International was founded by a consortium of American educators in 1972.
Source: ScientologyNews.org
Related Media