The Ranch Events Complex Collaborates With Hunden Partners to Announce Development and Operations Request for Proposal for New Event Arena and Youth Sports Training Center
Press Release
•
Aug 30, 2023
Larimer County Explores New Pro Hockey Arena and Additional Ice Sheets for Community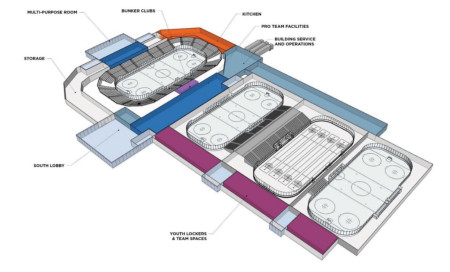 LOVELAND, Colo., August 30, 2023 (Newswire.com) - The Ranch Events Complex, under advisement from leading destination real estate development firm Hunden Partners ("Hunden"), is issuing a Request for Proposals (RFP) seeking qualified partners to develop and/or operate a new Event Arena, Youth Sports Training Center, and additional mixed-used development opportunity in Larimer County, Colorado. The Ranch Events Complex, located off I-25 in Loveland, Colorado, is owned by Larimer County and has been one of the region's premier event and entertainment complexes for the last two decades. The proposed spaces are a product of Larimer County's plan for the growing community.
A prior feasibility study identified an expanded arena and additional ice sheets for youth hockey activities as key facilities needed to support the community and stay competitive in the northern Colorado events market. The projected 250,000-square-foot arena will offer increased seating capacity for ice hockey, concerts and other entertainment opportunities. Additionally, the attached 150,000-square-foot Youth Sports Training Center will include three sheets of ice designed for youth ice sports. The Center will also house pro team facilities, a kitchen, bunker clubs, a multi-purpose room, youth lockers and team spaces. The AHL's Colorado Eagles, Northern Colorado Youth Hockey, and 360 Hockey programs have committed to making the new arena and training center their home as soon as 2027.
"Local communities, fans and teams are prioritizing next-level entertainment venues while also providing world-class sports facilities for their youth," says Hunden President and CEO Rob Hunden. "We are thrilled to share our expertise in development advisory and placemaking with the leadership of Larimer County to bring their ideas to life."
In addition to developing the Event Arena and Youth Sports Training Center, the RFP also offers the developer optional development rights on approximately 15 additional acres at The Ranch and the opportunity to repurpose the existing Budweiser Events Center. The selection process will include two separate evaluations: one for the developer of the venues and optional development of the mixed-use opportunity, and one for the operator of the venues. Companies who are interested in either proposal, or both, are invited to attend a pre-proposal meeting on-site at The Ranch prior to the submission deadline in November.
This RFP will be an open, competitive procurement through Larimer County, and all qualified respondents are encouraged to participate. Additional details are included in the RFP, which can be found through Bidnet Direct. Anyone who would like to download and view the solicitation must first register on BidNet.
About Hunden Partners
Hunden Partners, also known as "Hunden," is the leading real estate and destination development consulting firm. The firm offers a full range of advisory, market and financial feasibility, economic and impact analyses for specialty destination assets such as sports facilities, mixed-use and entertainment districts, convention and expo centers, hotels, entertainment venues, theme parks, recreation facilities, and other economic development projects.
In addition, Hunden also provides the developer solicitation and selection experience to move projects from concept to funding. Hunden's clients include cities, states, universities, DMOs, authorities and private developers. Rob Hunden has worked on more than 1,000 studies and has had a hand in the development of more than $20 billion in open and underway projects around the world.
For more information, please visit https://hunden.com.
About Larimer County
Larimer County serves all residents and businesses through stewardship of numerous community resources, infrastructure improvement and maintenance, planning services, transparent public records, human and economic health initiatives and broad community-wide public safety services. The County has a rich agricultural and western heritage that is reflected in our commitment to a high quality of life and preservation of our natural areas.
About The Ranch Events Complex
The Ranch Events Complex is owned by Larimer County and is located in beautiful Loveland, Colorado. Since opening in 2003, The Ranch has earned a reputation as one of the region's premier event and entertainment complexes. With the ability to host virtually any event, from board meetings to tens of thousands of fans at a music festival, the complex's multi-purpose venues are known locally as a place for entertainment and nationally recognized event destinations. The Ranch offers more than 240 acres of versatile indoor and outdoor space, industry-leading event staff, exceptional catering, and ample parking, all near local award-winning hotels and amenities. It is conveniently located off I-25 in Loveland and is less than an hour's drive from Denver International Airport.
Source: Hunden Partners