The Power of the Brand: Cannabis Companies Go Big
Press Release
-
updated: Apr 20, 2018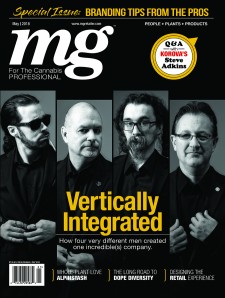 LOS ANGELES, April 20, 2018 (Newswire.com) - Coca-Cola. Nike. Budweiser. Geico. Whether high-end or down-to-earth, all consumer product success stories share a common trait: a recognizable, cohesive brand message that resonates with consumers.
Even in a sector as "hot" as cannabis, branding can mean the difference between a breakout company and an also-ran. In its May 2018 issue, "mg Magazine" the industry's premier trade journal, tackles the unique branding and marketing challenges facing a young industry that operates outside of federal law.
In the cover story, "The Brand Brothers," Editor-in-Chief Tom Hymes examines the extraordinary success of Denver-based Medically Correct LLC, the parent company of edibles mega-brand incredibles. What began as a shoestring startup in 2010 has become a multimillion-dollar, multi-vertical revenue engine, due in no small part to the founders' clear — and still unwavering — vision at the outset. Despite ever-changing regulations and shifting market conditions, the four men at the helm are determined to make incredibles "the Coca-Cola of cannabis," largely by maintaining focus on the primary reason the company exists at all: to ease suffering with cannabis-based medicine.
For incredibles and other companies featured in May's "mg Magazine", branding success isn't about logos, clever taglines, or fancy packaging. It's about creating community and shattering the "stoner" stereotype. Read the cover story here: https://mgretailer.com/the-brand-brothers.
Also in the May issue:​
Branding and marketing professionals spill their secrets. What does it really take to catch — and keep — consumers' hearts and minds?
​
Brands that arose from within six marginalized groups reveal why sensitivity and education are the keys to fostering diversity.
As chains and franchises begin to appear, a design-build firm with mainstream clients including Coach, Louis Vuitton, J.Crew, and Casa de Montecristo steps in to help cannabis retailers present a consistent message in physical space.
To subscribe to "mg Magazine" visit: https://subscribe.mgretailer.com/subscribe.
To request a copy of the May Issue please call (310) 421-1860.
About "mg Magazine"
mg is the leading national trade journal for the legal cannabis industry. Available in both print and digital formats, mg places a singular focus on the people, plants, and products that fuel the phenomenal growth of the burgeoning cannabis industry. For more information, visit mgretailer.com.
About CANN Media Group, LLC
CANN Media Group (CMG) is an industry-leading media and information services company based in California with a focus on connecting people through content. CMG is equally passionate about the products we produce and the industry we serve, and this dedication is embedded in our culture. For more information, visit CANNmg.com.
Source: CANN Media Group
Share:
---
Categories: Media Industry
Tags: advertising, branding, cannabis, cannabis business, cannabis industry, cannabis marketing, edibles, incredibles, marijuana, marijuana industry, marketing, medically correct
---