The Plan Sponsor University Announces TPSU Plus
Press Release
•
Jun 21, 2023
A TPSU-Branded Membership Partnership with 401(k) Marketing to Enhance Services for Financial Advisors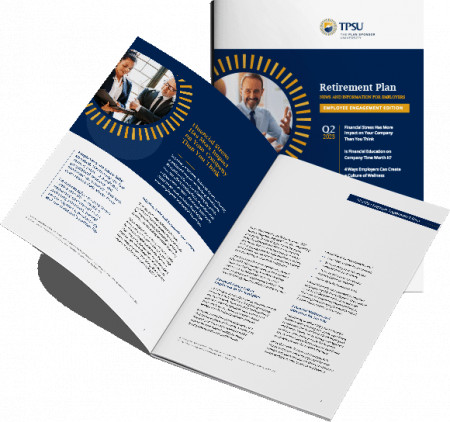 JUPITER, Fla., June 21, 2023 (Newswire.com) - The Plan Sponsor University, renowned for offering the most comprehensive retirement training program for retirement plan sponsors in America, is thrilled to announce its strategic partnership with 401(k) Marketing, a leading marketing agency specializing in the retirement plan industry. Together, they have created "TPSU Plus", a dynamic collaboration aimed at delivering enhanced value to retirement plan advisors seeking to expand their reach and strengthen their marketing efforts.
TPSU Plus provides Advisors and TPSU Adjunct Lecturers with a valuable "follow-up" service that caters directly to advisors seeking to continue to engage with plan sponsors that have attended their programs. This comprehensive marketing strategy aims to elevate brand awareness, cultivate leads, and empower advisory firms with a consistent and effective approach to capture more retirement plan business. With TPSU Plus, Adjunct Lecturers gain access to ongoing support and an array of essential features designed to enhance their marketing endeavors, including:
Ongoing digital content creation tailored for retirement industry professionals
Business development strategies to attract and engage potential clients
Weekly social media posts for increased brand visibility and engagement
Ongoing support from dedicated relationship managers
TPSU Plus, offered in collaboration with 401(k) Marketing, is a game-changer for Retirement Plan Advisors (RPAs) seeking to enhance their online presence, credibility, and connections with their target audience. This strategic partnership between 401(k) Marketing provides a streamlined "Follow-up" solution that empowers TPSU Adjunct Lecturers to effectively engage and connect with their Plan Sponsors and ultimately achieve greater success in the retirement plan industry.
Retirement plan advisors looking to elevate and strengthen their marketing efforts can visit https://www.trauniversity.com/tpsu-plus-retirement-plan-marketing/ for more information about TPSU Plus.
About TPSU: The Plan Sponsor University (TPSU), an affiliate of TRAU, The Retirement Advisor University, offers the most comprehensive combination of online and live workplace retirement plan education for business owners, benefits specialists, or other employer fiduciaries.
The Plan Sponsor University is in existence to help plan sponsors in their understanding of both establishing a firm foundation for the plan and the baseline measures of success for their own plan.
About 401(k) Marketing: 401(k) Marketing is a renowned marketing agency specializing in the retirement plan industry. With a focus on helping retirement plan advisors establish long-lasting brand awareness, the firm empowers 401(k) professionals to showcase their expertise. Since its founding in 2014, the company continues to promote the fact that retirement plan advisors are specialists and should have marketing content that highlights their unique skill set.
Source: The Plan Sponsor University
Related Files