The Peculiar Book Club With Brandy Schillace Now Available as a Podcast
Press Release
•
Nov 10, 2021
The livestream YouTube show Peculiar Book Club now a podcast on all audio platforms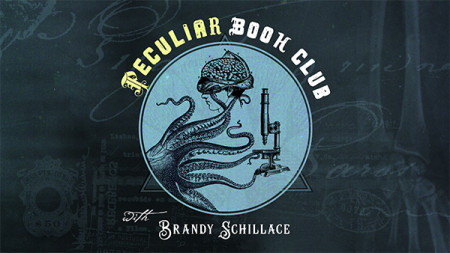 CLEVELAND, November 10, 2021 (Newswire.com) - Dr. Brandy Schillace — critically acclaimed author, Editor in Chief of Medical Humanities and creator and host of The Peculiar Book Club, is pleased to announce that The Peculiar Book Club has expanded from a live stream (and online community) to become a podcast entitled The Peculiar Book Club Podcast.
"This podcast is right up my dark, stinky little alley."

Mary Roach, author of Stiff, Fuzz

"What's not to like? Booze, books, and bizarre stories! I loved meeting with the Peculiar Book Club and can't wait to go back on the show."

Dr. Lindsey Fitzharris, author, medical historian, and host of The Curious Life and Death Of…
The inaugural 12-episode season features host Schillace and best-selling authors of unusual science, medicine, and history books sharing their experiences with a live audience in a virtual book club setting. Each guest answers questions from the host and viewers and otherwise expands on the "peculiar" ways that truth is stranger than fiction.
Did you know that crash test dummies were once human corpses?
That right now, tiny human brains are being grown in Petri dishes?
That you can judge the health of an ecosystem from the fungus in a bat's nose?
With each episode designed to be a lively and fascinating 60-minute dive into the world of the peculiar, these best-selling authors also talk about the craft of writing, from the inspiration of personal stories to the strange things that turn up during research (often in basements). Additional shows will feature host Brandy Schillace interviewing guests and exploring the hinterlands between science fiction and science fact.
"I'm excited to bring together a community of diverse readers and writers in a safe and accessible space," says host Brandy Schillace, a supporter of LGBTQ rights. "If you're 'weird,' then you're also family here. Our goal as both book club and author-cast is to highlight new as well as experienced writers, promote indie bookstores where we can, and share the big, peculiar world with our listeners."
Season 1 guests include:
Mary Roach, author of STIFF; and FUZZ
Lindsey Fitzharris, author of THE BUTCHERING ART
Carl Zimmer, author of LIFE'S EDGE
Wendy Moore, author of KNIFE MAN
Chuck Wendig, author of BOOK OF ACCIDENTS
Sam Kean, author of ICEPICK SURGEON
Thomas Morris, author of EXPLODING TEETH
Judy Melinek and TJ Mitchell, authors of WORKING STIFF
Kathryn Harkup, author of MAKING THE MONSTER
Brandy Schillace discussing her book, MR HUMBLE AND DR BUTCHER, with Frank Spotnitz (X-Files writer/ producer)
Lydia Kang, author of PATIENT ZERO,
If you would like to participate in the filmed show, you can join the LIVE STREAM (YouTube) by registering for individual shows or subscribing to a whole season.
Season 1 of The Peculiar Book Club Podcast is available now at:
Google Podcasts Amazon Music iHeart Radio
Source: Peculiar Book Club
Tags