The Olson Company Wins Top Honors at the 27th Annual Eliant Homebuyers' Choice Awards
Press Release
•
updated: Apr 21, 2022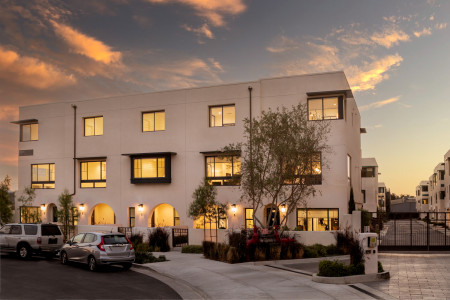 SEAL BEACH, Calif., April 13, 2022 (Newswire.com) - On March 8, 2022, The Olson Company was presented "The Eliant" award at the 27th Annual Homebuyers' Choice Awards. This is the third consecutive year that Olson has won this prestigious award for Overall Home Purchase & Ownership Experience (single-division builder) with more than 200 homes closed, a true testament to their passion for developing attainable housing in one of the most challenging states in the nation for first-time homebuyers. Eliant Inc. recognized The Olson Company and other homebuilders for their dedication to elevating the overall homebuyer experience, including purchase and design experience, construction quality, service, and communication.
The Olson Company's commitment goes beyond just the purchase of a new home. Their dedication to promoting walkable and eco-friendly living in Southern California has been proven for more than 30 years. Olson communities offer homebuyers an opportunity to reside in convenient locations that are close to retail, dining, recreation, entertainment, proximity to employment centers and amenities, encouraging healthier lifestyles in easily walkable locations.
"It is an honor to be recognized by our homeowners through Eliant Inc. and the Annual Homebuyers' Choice Awards for the organization's commitment to delivering extraordinary service from all aspects of the purchase and homeownership experience," said, Scott Laurie, CEO and President of The Olson Company.
"These awards are the benchmark of our company's success and we are extremely proud of our team of professionals who pay close attention to each detail and process," noted, Bill Holford, President, Olson Communities.
This year proudly marks The Olson Company's seventh time since 2012 to win "The Eliant" - an accomplishment that Laurie said, "is made possible by our thoughtfully planned communities and exceptional customer service. We take great pride in the work required to achieve this award."
The Eliant Homebuyers' Choice Awards recognizes superior customer experience in the homebuilding industry, powered by the values, opinions, and experiences of more than 185,000 recent homebuyers from 190 major homebuilders across the U.S.
In addition to "The Eliant" award, The Olson Company took home five other first-place wins at the event, including:
Purchase Experience (Large Volume Builders)
First Year Quality (Large Volume Builders)
First Year Customer Service (Large Volume Builders)
Robine Sheldon for Sales Representative of the Year (Medium-Volume Survey Responses)
Matt Smelser for Customer Service Representative of the Year (High-Volume Survey Responses)
Other recognition for The Olson Company team included:
Best Customer Communication - 3rd Place
Karen Gorske for Sales Representative of the Year (Medium-Volume Survey Responses) - 3rd Place
Sorin Michalski for Customer Service Representative of the Year (High-Volume Survey Responses) - 3rd Place
Eddie Sanchez & Jose Navarro for Construction Representative of the Year Medium-Volume Survey Responses - 4th Place
Design Experience (Large-Volume Builders) - 5th Place
The Olson Company has recently opened three new home communities, including Laurel Walk in La Mirada, Lumina Walk in Rosemead, and Jasmine Walk in Buena Park. Additional new home communities are expected to open later this year, including Blossom Walk in Compton, Azalea Walk in Gardena, and Estrella Walk in La Puente.
About The Olson Company
The Olson Company is California's premier builder of affordable new home communities in the state's most in-demand urban centers. In partnership with cities and other local and state agencies, Olson works to provide multi-tiered solutions to the critical issues of affordable for-sale housing, community redevelopment, transportation, and sustainability. Recognized for creating thoughtfully designed communities within reach of California homebuyers, Olson has built more than 11,000 single-family attached, single-family detached, live/work, and mixed-use in-town homes across 100 cities since 1988. Headquartered in Seal Beach, California, Olson is the proud recipient of many top customer experience awards, including the 2020, 2021, and 2022 Eliant Homebuyers' Choice first-place awards for Overall Purchase and Ownership Experience.
Media Contact:
Michelle Johnson
SVP of Sales and Marketing
562-370-9397
mjohnson@theolsonco.com
Source: The Olson Company