The Nickel Ride Adds Mobility Icon Mitch Golub to Strategic Advisory Board
Press Release
-
updated: Mar 4, 2019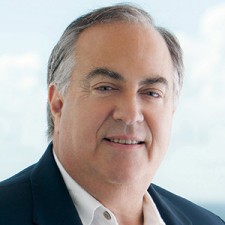 FORT MYERS, Fla., March 4, 2019 (Newswire.com) - The Nickel Ride, a free on-demand electric rideshare company, today announced the appointment of its next Strategic Advisory Board member, Mitch Golub, former President and Founder of Cars.com.
As President and Founder of Cars.com, Mitch Golub grew the business to record profitability with $600M in revenue, more than 31 million monthly visits, 21,000 dealer advertisers, 1,500 employees, and ad relationships with every auto manufacturer selling cars in the United States. The company had a 96 percent employee engagement rate and a 99 percent employee approval rating on Glassdoor. The business was later successfully sold to Gannett in October 2014, for $2.75 billion.
Presently, Golub is the President of MFG Digital Inc., an investment and consulting firm with an emphasis on digital startups. Before Cars.com, he spent 20+ successful years with the Tribune Co., where he leveraged his extensive background in product management to help the company's new business initiatives, including the creation and management of startups in print, broadcast, and online. Golub also held a leadership role in Tribune's emerging New Media Group, where he created and launched Digital City, in partnership with America Online. He received the Tribune Co.'s first Values Award, presented for business achievements demonstrating creativity and entrepreneurialism.
Golub quickly identified how The Nickel Ride is uniquely poised to disrupt the rideshare market by offering 100 percent free and electric rides through its proprietary ad technology platform. "When you combine a groundbreaking, differentiated consumer service with unique and dynamic targeted advertising capabilities you have a win-win business," said Golub. "That's what Judah and his team have built, and I'm excited to be joining them on the journey."
"When I think cars, I think of Mitch Golub," said Judah Longgrear, Founder & CEO, The Nickel Ride. "Mitch is an absolute icon in both the automotive and digital media industries, and The Nickel Ride is elated to have him join our powerful team of Strategic Advisory Board members. His extensive industry experience and track record of success is undeniable proof that he's learned to navigate the challenges of growing a massively successful company. That type of counsel will be invaluable to ensure the growth of The Nickel Ride's operations and digital platforms."
As The Nickel Ride continues to raise $3 million in Silicon Valley venture capital to expand its free rideshare service to high-density communities throughout the country, adding influential members to the Strategic Advisory Board is a critical component to its growth plans. Mitch joins esteemed Advisory Board members Daniel Curran and Brian Samelson.
The Nickel Ride is poised to become the leader in last mile mobility as it sets its eyes on larger metro areas like San Francisco, Palo Alto, Santa Monica, and Venice, CA in 2019 and beyond.
Learn more about The Nickel Ride.
Media & PR Contact
Shawn O'Brien, Chief Marketing Officer
Email: shawn@thenickelride.com
Phone: 239-218-9974
Source: The Nickel Ride
Share:
---
Categories: Advertising, Transportation
Tags: advertising, eco friendly, marketing, mobile marketing, OOHA
---