The Next Generation of Luxury Has Arrived on Florida's Scenic Hwy 30A
Press Release
•
Jun 13, 2023
Designed for generational living, Grace Point reveals the final phase of the boutique master planned community.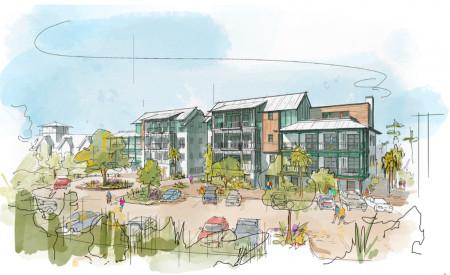 SANTA ROSA BEACH, Fla., June 13, 2023 (Newswire.com) - Corcoran Reverie, a high-end real estate brokerage and an affiliate of Corcoran Group LLC, brings the first residence within the final phase of the bespoke development to the market. The Grace Point Residences is an exclusive collection of 13 luxury condominium units at the heart of 30A's Grace Point community. Each residence is a unique creation in an intimate and characterful neighborhood.
"Our philosophy has always been to build for what the market demands. Corcoran Reverie has been fortunate enough to partner with developers who have the right product at the right time to meet the demand for locals and residents around the world wanting to live along 30A," said Hilary Farnum-Fasth, Broker & Owner of Corcoran Reverie. "Now, five years after we began construction in Grace Point, we're very excited to launch the Grace Point Residences, the area's newest luxury condominium debut, in what has become one of 30A's most exciting neighborhoods."
Designed by the acclaimed team at Via Chicago Architects x Diseñadores, the newly unveiled Grace Point Residences reinterpret coastal vernacular in a way that embraces the stunning surrounding landscape while inspiring a new vision of luxury living along 30A. Through thoughtful site planning, the three distinct buildings that make up the site plan are seamlessly interconnected by meandering brick paved walkways and unique courtyards bordered by lush vegetation. The ground level of the Northernmost building is slated to create a vibrant mixed-use sector anchored with conveniences like a local coffee shop, a fine dining venue, and ample green space.
"With the unique configuration offering both a rental permitted and rental restricted building, coupled with the sought-after, full-time living features rarely found in attached unit configurations, the Grace Point Residences create a compelling opportunity for investors and residents alike," says Farnum-Fasth.
Evoking the grand azoteas of Cartagena, the rooftop pool with cabanas and lounge will provide residents with a central place to gather with friends and family. Bold selections, adventurous detailing, and curated color palates give traditional forms of modern context, fostering an ideal blend of welcoming community and discrete privacy.
The culmination of amenities and exclusiveness affords the current and future residents of the community with the epitome of private coastal living while remaining geographically poised in the heart of 30A minutes from all of the world-class dining and entertainment venues along with the town centers of Alys Beach and Rosemary Beach.
For more information about the Grace Point Residences, including pre-construction sales opportunities, contact the sales team at 850.685.0171, info@corcorangroup.com, or visit the development's temporary sales gallery located within The Big Chill, 7000 E. County Road 30A, Inlet Beach, FL. Learn more at https://www.gracepoint30a.com.
###
About Corcoran Reverie
Corcoran Reverie, an affiliate of Corcoran Group LLC - a leading residential real estate brokerage firm headquartered in New York City - is a locally owned high-end brokerage specializing in the luxury home market in Northwest Florida from Pensacola to Panama City and the coastal communities along 30A and the greater Nashville Area. Corcoran Reverie holds the #1 office ranking in Northwest Florida based on closed office sales volume of over $750 million in its first year as a Corcoran affiliate and $1.12 billion in 2021. Throughout the entire network, Corcoran is home to more than 150 offices and 5,500 agents in key urban, suburban, and resort markets nationwide. For more information on Corcoran Reverie, visit corcoranreverieproperties.com
Source: Corcoran Reverie