The Newest FDA-Cleared Breakthrough in Women's Health Treatments
Innovative Laser Procedure, MonaLisa Touch®, Restores Gynecologic Health
Press Release
-
updated: Oct 10, 2017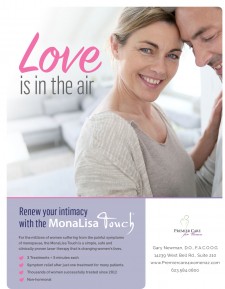 SURPRISE, Ariz., October 10, 2017 (Newswire.com) - Dr. Newman with Premier Care for Women has added a leading edge treatment to his practice to resolve gynecologic health issues often caused by menopause. The MonaLisa Touch, an in-office procedure that is virtually painless and requires no anesthesia, received FDA clearance 2014. Dr. Newman is one of the first physicians in Phoenix, Arizona to offer the special fractional CO2 laser designed to help postmenopausal women as well as breast cancer survivors.
In 2010, there were approximately 64M postmenopausal women and many of them may experience gynecologic health changes when estrogen levels decline.  In addition, there are approximately 250K breast cancer diagnoses per year – but the disease has a survival rate of nearly 90 percent at five years.  That adds up to a large portion of our population likely suffering in silence from a wide array of gynecologic health concerns; many of which can greatly impact a woman's quality of life. 
Enter MonaLisa Touch, the most recent innovation introduced by Cynosure®, a worldwide leader in the surgical, medical and aesthetic pulsed-light and laser marketplace.  Performed in an office environment, without the need for anesthesia and with virtually no pain or side effects, the MonaLisa Touch delivers fractional CO2 laser energy to the vaginal wall tissue, so cells make more collagen. Patients undergo three treatments spaced six weeks apart, and each treatment time is less than five minutes.
"Recent studies show that patients treated with the MonaLisa Touch laser showed highly statistically significant improvement in the vaginal tissue after the first treatment," says Dr. Newman, a 2015 Top Doc for Banner Del Webb with Premier Care for Women, located in Surprise, AZ.  "Patients in the studies experienced minimal to no side effects or adverse reactions and showed an escalation of progress with each subsequent treatment. With these kinds of outcomes, the MonaLisa Touch is a game-changing procedure for my post-menopausal patients."
"I transferred to premier care from another O.B. and I could not be happier with my decision. It's a 45-minute drive for me but I wouldn't go anywhere else. Janelle and Dr. Newman are so caring, and really take their time with their patients." – Lena P.
"MonaLisa Touch is a real breakthrough for feminine health," said Dr. Newman.  "It offers a quick and virtually painless remedy for a medical condition with a large unmet need for an effective treatment option. I am grateful I am able to offer my patients this treatment."
For more information on the Cynosure MonaLisa Touch laser, or to schedule an interview with one of our doctors, please call our office at 623-584-0800.
MonaLisa Touch is a registered trademark of DEKA M.E.L.A. Srl – Calenzano - Italy
About Premier Care for Women
Gary Newman, D.O., FACOOG is a board-certified fellow of the American College of Osteopathic Obstetricians and Gynecologists. His practice interests include normal and high-risk obstetrics, pelvic surgery for incontinence and other disorders, and all aspects of female health maintenance and preventative care.
Dr. Newman graduated from the University of Arizona with a degree in Nutritional Science. His medical school training was in California at the Western University of Health Sciences. He then completed his residency in Detroit at a Michigan State University affiliated program. Premier Care for Women is a complete full-service Woman's Health OBGYN and Gynecological practice based in Surprise, AZ on the outskirts of the Phoenix, AZ metro area.
Media Contact: 
TJ Loftus
Phone: 888-863-7421
Email: media@diapmedia.com
Source: Dr. Newman with Premier Care for Women
Share:
---
Categories: Healthcare and Medical Informatics, Healthcare and Medical News
Tags: Arizona, Gynecologist, MonaLisa Touch, OBGYN, Phoenix, Surprise
---