The National at 125 S Clark Selects LifeStart to Manage Their New Corporate Fitness Center
Corporate Fitness Center Management
Press Release
-
updated: Nov 21, 2016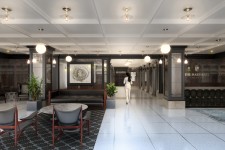 Chicago, IL, November 21, 2016 (Newswire.com) - LifeStart Wellness Network, Inc. continues to partner with some of the most innovative properties in the country by securing a Management Contract for the on-site fitness center located in the newly restored building.  LifeStart initially provided consulting, space planning, and procurement services before signing on for the ongoing management of the new center.
The 7,000 square foot facility includes a wide variety of state of the art cardiovascular equipment (with integrated connected digital media), strength equipment, free weights, functional training equipment, and group exercise studio
LifeStart's unique approach to management, including innovative programming, enhanced services and access to specialized health professionals, will help to provide an inviting and socially active amenity to the building.  
About LifeStart
LifeStart has built the nation's largest portfolio of fitness centers located in multi-tenant building.  LifeStart has over 25 years of experience in managing, designing and developing corporate fitness centers with over 60 locations in the country.  LifeStart's innovative programs and services deliver best in-class engagement and financial stability, while vastly improving the on-site amenities for their clients.  LifeStart's network of health professionals from Nurses, Dietitians, Health Coaches and Exercise Physiologists, LifeStart exceeds industry averages in both engagement and utilization, but creating programs that are focused on the entire tenant population and motivating and encouraging employees to make life-long behavior changes that improve their health and well-being.  LifeStart has been recognized by their industry for having the best new-member engagement program, and best non-member program.  To learn more about LifeStart visit www.lifestart.net
About The National 
Designed in 1907 by renowned architect Daniel the former Commercial National Bank of Chicago, the pioneering spirit of this building is alive in the iconic structure, which is once again making a bold statement in the Central Loop. Built for maximum functionality and accessibility, the refreshed building will now meet the highest demands of modern business while establishing a new work culture.
This is where boutique meets business and the unexpected is around each corner. The National Chicago marks a new age of buildings to be celebrated. 
This 500,000 SF building in the central business district brings a modern twist to the neighborhood, including lofted office space, an outdoor terrace, an artisanal marketplace and lounge, and a fitness area.
About Blue Star Properties
Blue Star Properties is a Chicago-based commercial real estate company known for the acquisition and revitalization of urban retail, office, and mixed-use properties in and around Chicago.
Craig Golden established Blue Star in 2008 with the goal of pursuing a wider range of projects after co-founding Sterling Bay in the late 1980's.  Along with more traditional commercial real estate endeavors, Craig has cleverly incorporated his love for music and dining into the company.
Blue Star is currently involved in a variety of restaurants and music venues throughout the city of Chicago.  Since first opening its doors in 2008, Blue Star has renovated more than thirty office, retail and industrial properties, breathing new life into all of the company's acquisitions.
With a passion for redeveloping older structures to fit in a modern workplace, Blue Star's portfolio contains nearly two million square feet of commercial space.
Source: LifeStart Wellness Network
---
Categories: Real Estate, Design and Architecture, Construction, Facilities Maintenance & Management, Real Estate Investments, Human Resources
Tags: Amenities, Commercial Real Estate, Corporate Fitness, Corporate Fitness Management, Corporate Wellness, Fitness
---