The Most Advanced File Browser App Designed With User's 100% Privacy in Mind Just Launched in the US Market
Press Release
•
Mar 1, 2016
KonanLink indexes mobile device, email, cloud service, Windows PC, Mac files using user's computer as a main server allowing total privacy control.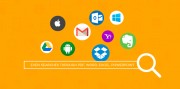 Seattle, WA, March 1, 2016 (Newswire.com) - We go through tons of documents, email attachments, files, and folders every day across home computers, work desktops, smartphones, and cloud services. Sifting through those places to find the one file you need most used to be a major pain for those who deal with many attachments on a daily basis. But a new service from Konan Technology is designed to help people find the exact file they want, from any location, in an instant.
KonanLink treats your computer like a personal server and allows users to connect devices and services so your files aren't copied or shifted to any place other than your computer. This allows users to retain complete control over the files.
Indexing files also allows users to search through contents of PDF, Word Documents, Excel Spreadsheets, PowerPoint Presentation files and even images. Users will no longer be limited to finding files by its file name. Any keywords or even phrases would be sufficient to find what you are looking for throughout all connected devices & services.
About Konanlink
Konanlink is powered by Konan Technology Inc. who provides smart search software and data service based on language and multimedia. Founded in 1999, Konan Technology Inc. provides solutions to public, ICT, education and finance industries.
Related Media
Tags