'The MobKing' - Award-Winning Online Web Series Enters Into Blockbuster Television Deal
Press Release
-
updated: Oct 16, 2018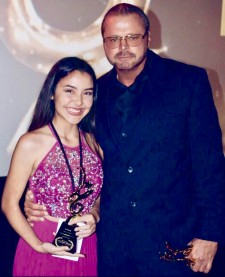 LOS ANGELES, October 16, 2018 (Newswire.com) - "The MobKing", which recently won Best New Web Series and Best Lead Actor at the Annual Widescreen Festival 2018 has entered into a co-production deal with, Wanda-Halcyon Television, Un Nouveau Jour, New Street Pictures and Memphis Writers. "The MobKing" is a dramatic, visceral and moving series based on the world of corruption, murder and organized crime in modern Florida. The show was created by Ciro Dapagio, who stars as the lead protagonist and fan favorite, "Mike White".
The visceral drama is centered around the tension between the Chicago syndicate and the New York "Cosa Nostra", both of whom have a hidden financial interest in an Indian casino run by Mike White in Florida. The story arc revolves around Mike White, the key player that each group wants to take control of and relies upon in Florida.
However, Mike White has his own vision of how Florida should be run and who controls his destiny; a vision he planned during his previous years of incarceration for racketeering. Upon Mike's release, he starts to challenge all legacy agreements  "a la Count of Montecristo" and a clash of the old and the new violently unfolds on screen, providing the viewer with an explosive insider's look at the nexus between organized crime, motorcycle gangs, and cartels through the eyes of Mike White, who takes the audience on his hero's journey in the underworld.
According to Pat Andrew of Wanda-Halcyon, former executive of Spelling Entertainment and also former assistant of the icon of Hollywood, Sydney Koshak; "We were researching the web looking for new shows for development using data analytics, branding profiles, views etc. and we found that the show 'MobKing' was scoring off the charts with some fairly intricate story arcs that were intelligent, realistic and incredibly current. We were very impressed with the loyalty of the social media fan base, it was not something we had seen since "The Wire" on HBO or "The Americans" on FX. Also, along those lines, the women to men viewers was evenly split in the 23-53 year old demographic so we knew we had come across something special. The lead actor, Ciro Dapagio, has a real magnetism that just resonates with viewers on screen."
The "streaming" success is the work of creator, Ciro Dapagio, a unique figure and former member of organized crime in Florida who became a writer and actor upon his release from prison which gives a heightened authenticity to the viewer. Dapagio is also the star of the series along with veteran and respected actor Antoni Corone and Celine Alva, recent winner of Best Supporting Actress in the Annual Widescreen Festival 2018.
The show is a favorite among online critics and is applauded for its authenticity and intuitive dialogue written by Jokes Yanes and Ciro Dapagio.
Filming will commence in November in Marbella, Spain, London, England and Miami, Florida.
Media Contact: Lucy Carver, Lucy@wanda-halcyon.com, 213 283 0919
Source: Wanda-Halcyon Television
Share:
---
Categories: Arts and Entertainment, Television
Tags: Ciro Dapagio, MobKing, New Street Pictures, Pat Andrew, Wanda-Halcyon Televison
---