The Mobile Phone Becomes the Yogi
Sleep aid uses smartphone as a projector
Press Release
-
updated: Aug 24, 2017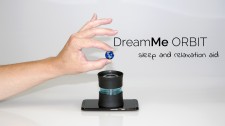 Dusseldorf, Germany, August 24, 2017 (Newswire.com) - Many times people fail to get the necessary relaxation and sleep they need. This is majorly because of the daily activities they involved. Who said relaxation needs many training hours to be effective? Not Blue Trigger Lifestyle Invention. They're the innovative company giving Kickstarter crowdfunding campaign supporters a device that pulls double duty. With an innovative usage and design, the mobile phone becomes the yogi.
Yvonne Joh, a representative of Blue Trigger Lifestyle Invention, said, "It is the first sleep and relaxation aid in one which uses your mobile phone as a projector. It helps you to relax and fall asleep faster. Furthermore, it turns your mobile phone or tablet into a pocket planetarium."
DreamMe ORBIT hardware does not require batteries or cumbersome coupling with the mobile phone or tablet, as the hardware uses a special optical system to show the selected animations right on the ceiling. While the phone is charging on the nightstand, DreamMe ORBIT makes use of it projecting parts of the display on the ceiling.
When people are stressed, they often breathe too shallowly. To relax and reduce heart beat frequency, there are scientifically proven breathing exercises known from Yoga Therapy. These exercises do not have to be learned with long training hours. Intuitively, the projection guides through inhaling and exhaling in the proper rhythm without having to concentrate on whether your technique is correct or not. Thus, all the attention directed to breathing and leads to the desired outcome faster.
The free DreamMe ORBIT app will help slow down metabolism, disconnect thoughts, and fall asleep faster without taking any medication. The projection of the 4-7-8 breathing exercise technique employed by DreamMe ORBIT helps to reduce the time to fall asleep.
Furthermore, DreamMe ORBIT turns the mobile phone or tablet into a pocket planetarium. The rotation of the projected planets on the ceiling and the relaxing sounds were created to help reduce the pulse beat. DreamMe ORBIT prepares for the sleep phase and helps relax. Optionally, custom relaxation or sleep sounds can be selected.
For more information visit http://www.dreamme.de. To support the Kickstarter campaign visit http://kck.st/2wxhz2f.
Source: BlueTrigger Lifestyle Invention
Share:
---
Categories: Active and Healthy Living, Digital Living, Lifestyles, Gadget, Healthcare and Medical News
Tags: gadget, kickstarter, lifestyle, meditation, mobile phone projector, relaxation aid, sleep aid, yoga
---
Related Files
Additional Links