The Michaels Organization Selected by YVHA as Its Community Development Partner for Brown Ranch
Press Release
•
Jul 11, 2023
Brown Ranch is the largest affordable housing development that YVHA will undertake, which will include four neighborhoods and up to 2,264 homes constructed over a period of 20 years in Steamboat Springs, Colorado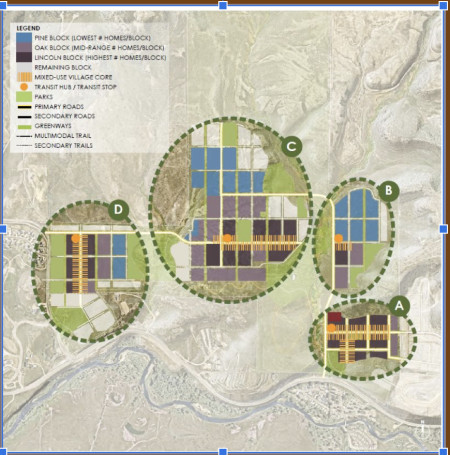 CAMDEN, N.J., July 11, 2023 (Newswire.com) - The Michaels Organization, a national leader in residential real estate, has been chosen by Yampa Valley Housing Authority (YVHA) as its private-sector community development partner for a major workforce housing initiative they are undertaking in Steamboat Springs, Colorado, known as the Brown Ranch.
The selection was confirmed by the Yampa Valley Housing Authority Board meeting held July 6.
"The Michaels Organization is extremely excited to come to Steamboat Springs and partner with the YVHA, a forward-thinking Housing Authority, and jointly work toward the implementation of their vision for Brown Ranch," said Bruce Morgan, Michaels' Senior Vice President of Development. "Together, we will ensure that this vision of a community which provides housing opportunities for a diverse, vibrant and functional workforce albeit if you are a nurse, a lift attendant, a teacher or a police officer, you will have attainable high-quality housing options available to you within the community where you live, work and play. In essence, an inclusive Steamboat Springs community for everyone."
The Brown Ranch is the largest affordable housing development that YVHA will undertake, which will include four neighborhoods and up to 2,264 homes constructed over a period of 20 years. The first two neighborhoods will have 730 to 840 homes for rent or sale.
The development plan includes recommendations from a panel of national experts and practitioners in development, affordable housing, public policy, and finance to kickstart implementation of the Brown Ranch Community Development Plan, which the YVHA hosted last year with the Urban Land Institute. The week-long intensive process included a detailed and critical review of the Plan, interviews with local leaders and stakeholders, and the development of recommendations related to funding, the construction labor force, engagement with the private sector, and other major issues associated with making Brown Ranch a reality.
"We are excited to bring on such a respected, talented and experienced community development partner to the Brown Ranch project. With our current housing crisis in Steamboat Springs, we know we need to build affordable and attainable housing to rent and to buy for our teachers, nurses, law enforcement, restaurant workers and all the workers that build the foundation for our thriving economy. Having a respected community development partner like The Michaels Organization allows us to move effectively and efficiently to achieve our vision: The Brown Ranch residents will live and connect in a vibrant, resilient, diverse, and welcoming neighborhood that provides a wide variety of housing options and services designed by and for the Yampa Valley community," said Leah Wood, YVHA Board President.
The Brown Ranch development is dependent on the annexation agreement with the City of Steamboat Springs, which would provide municipal services to the new neighborhood. The Brown Ranch Annexation Committee is still negotiating the agreement and has two more meetings scheduled on July 12 and July 26.
About The Michaels Organization: Michaels is a national leader in residential real estate, with full-service capability in development, property and asset management, construction, acquisitions, and investment. With a national footprint that stretches across 39 states, the District of Columbia, and the U.S. Virgin Islands, Michaels offers comprehensive solutions that jumpstart housing, education, civic engagement, and neighborhood prosperity and is committed to creating Communities that Lift Lives.
Source: The Michaels Organization