The Lather Co. Is Releasing Summer Scents to Tempt Warm Weather Whimsy
Press Release
•
Jun 13, 2016
Handmade soap line features duo sets of fragrances based on the paramount days of summers past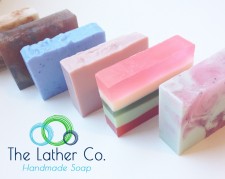 Tampa, Florida, June 13, 2016 (Newswire.com) - The Summer Delights Collection — The Lather Co. has officially announced they will be tantalizing tubs and showers everywhere by releasing the Summer Delights Collection of handmade glycerin soaps on the official first day of summer, June 20, 2016.
Owner and creator, Christy Carmichael, has set a new standard when it comes to handmade soap; scents will be sold in complementary sets. "They're designed so that if you love one, you'll love the other," says Christy, "and each one is inspired by summers past to help you enjoy summer present."
"Summer is a perfect time for renewal of the mind and body. Get ready for a delightful experience of handcrafted well-being with these refreshing summertime scents."

Christy Carmichael, Owner and Designer at thelatherco.com
These scent duos will have you begging for summer all year long:
"Front Porch" Duo: Lemon Sorbet & Lemon Iced Tea
"Picnic" Duo: Strawberry Mint & Fruit Salad with Basil
"Drinks on Me" Duo: Margarita & Mojito
"Summer Showers" Duo: Freesia & Rain
"Campfire" Duo: Marshmallow & Praline
Christy Carmichael doesn't do bare minimum soap, she does the maximum for your bare body. Every soap she handcrafts is made with special additives like clays, powders, exfoliants, and essential oils. The Lather Co. products are only available in limited quantities via their website thelatherco.com and are expected to sell out quicker than you can fill your claw foot tub. All duos will be listed and open for purchase on June 20, 2016 at midnight, eastern time.
Christy founded The Lather Co. in the summer of 2013 and has been growing in the industry ever since. "My mission with The Lather Co. is to help others find their daily well-being through various scents," says Christy, "whether it's bringing back a fond, distant memory, finding peace and tranquility in your busy life, or simply making you smile before your work day." She has several other soap products and accessories available year round, and is also able to create custom orders for events, birthdays, weddings, etc.
For more information on The Summer Delights Collection, please visit thelatherco.com
Contact Info:
You can contact Christy personally at Christy@thelatherco.com or her contact page at https://thelatherco.com/contact/
She also can be followed on: instagram at https://instagram.com/thelatherco, Facebook at https://facebook.com/thelatherco, Pinterest at https://pinterest.com/thelatherco, and Twitter at https://twitter.com/thelatherco. For all the latest up to date news and sneak peeks join The Lather Co.'s VIP list at http://eepurl.com/bTyIMz
Source: The Lather Co.
Related Media
Tags
Additional Links