The Kinne Group Sponsors Run to Attack Poverty
Press Release
-
updated: May 9, 2018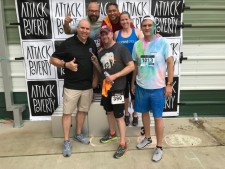 RICHMOND, Texas, May 9, 2018 (Newswire.com) - ​The Kinne Group of RE/MAX Fine Properties partnered with Attack Poverty to host the 7th Annual Run to Attack Poverty this past week in Richmond, Texas.
This is not the first time The Kinne Group has supported the Attack Poverty Organization. The entire team is committed helping Attack Poverty, in addition to many other initiatives within Fort Bend County, Texas and once again this past Saturday, Richmond, Texas was bursting at the seams, with runners of all ages coming out to support the cause.
The Attack Poverty Run
With races for each age group, The Attack Poverty Run is a family-oriented event featuring a 10K, 5K and several shorter races including a color run.
The 10K run started at 7:30 am sharp with nearly 100 runners. Maximo Mendoza (29) of Pearland, Texas took 1st Place with a Gun Time of 33:34.6.
Next, the 5K started at 8:00 am, with several hundred runners in this group. Sam Hulse (29) of Richman, Texas won 1st Place with a Gun Time of 17:54.3.
Awards are given to 1st, 2nd, and 3rd Places for each age group, for both the 10K and 5K.
Additionally, all ages participated in this event. Runners who placed this year were between the ages of 4 and 65. This proves that determination is truly all you need to achieve a goal.
Once the adults had their fun, it was the kids' turn to shine.
The Kid K kicked off the competition in this category. Aimed for kids from 5-12 years old, this race is a lot of fun, with friendly competition abound.
Afterward, the Toddler Trot got going. Children aged 2-4 years old participated in this race.
The different age groups help to encourage toddlers and children to enjoy the healthy path of friendly competition. Plus, it helps gear them toward wanting to participate in an event to support a cause. Hopefully the memories they make here will inspire them to continue this act of fitness, fun, and selflessness throughout their lives.
Seventh Year Success
The event that took place on April 21, 2018, was a true symbol of community and charity.
The 2018 Attack Poverty Run hosted around 600 runners participating in the race. Additionally, there were 200 volunteers and around 100 community members that helped make this event a true success!
Last year, there were about 500 runners, so this year everyone involved in the event was ecstatic to see such an increase in participation.
Attack Poverty Organization
Attack Poverty, the nonprofit that has orchestrated the hometown run is a global organization. Based out of Richmond, Texas, Attack Poverty aims to help break the cycle of generational poverty. Evoking positive community involvement is how this goal is accomplished.
The organization runs four major "Friends" initiatives. The initiatives run throughout Texas and reach as far as Uganda.
A mix of spiritual, educational, and community efforts comprise these initiatives. These efforts have helped hundreds of people since the organization's conception in 2009.
To close, the Attack Poverty Organization and The Kinne Group, thanks everyone for coming out to this wonderful event.
Steven Kinne noted that we are all looking forward to the help, awareness, and community involvement that next year's race will bring.
The Kinne Group with RE/MAX Fine Properties is a local real estate and community leader. For more information about The Kinne Group, visit their website or call (281) 610-3625 today!
Media Contact:
Web Presence, LLC
Eric Blankenship
786-332-6554
Source: Web Presence, LLC
---
Categories: Conventions, Trade Shows, Meetings and Events
Tags: Run to Attack Poverty, Steven Kinne, The Kinne Group
---