The Kingdom of Heaven on Earth Described in New Trilogy
Press Release
•
updated: Jan 3, 2019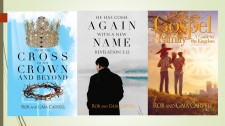 NEWFOUNDLAND, Penn., January 3, 2019 (Newswire.com) - The Kingsways has announced publication of The Gospel Family Trilogy, a set of books heralding the second coming of Christ and the establishment of the Kingdom of Heaven on Earth.
The three books, From the Cross to the Crown and Beyond, He Came Again with a New Name and Gospel Family: A Guide to the Kingdom, address and illuminate questions like:
· What is the Kingdom of Heaven on Earth?
· What is the role of Jesus Christ and the Lord of the Second Advent in its creation?
· What kind of government is there in the Kingdom and what is the lifestyle like?
Early feedback reader reviews have been enthusiastic:
"A well written and thoughtful book. Flows nicely and easy to read, almost like a conversation. Many insightful takeaways for living in today's world."
"Very practical understanding of God's Kingdom! A must read for all!"
Rob and Gaia Carvell consider themselves agents of change. They have served as traveling evangelists, chaplain and pastor in the past, and now focus on writing. They actively participate in the Sanctuary Church in Newfoundland, Pennsylvania. Find out more about them at www.thekingsways.org or contact them at robbiecar@thekingsways.org.
All three books are available on Amazon.com.
Source: The Kingsways LLC
Additional Links